By Damon Cooper, community reporter
From goths flocking for a dance at the Old Woollen events venue to an archive sharing this site's rich textile history and the people who worked in its buildings.
Sunny Bank Mills in Farsley is well worth the visit for tourists reading about Leeds, named as one of the global cities to visit in 2023 by travel publisher Rough Guides. But it's a bit off the beaten track so strap in!
If a Netflix series was commissioned about this place then it should start with Billy Gaunt, a multi-millionaire wool tycoon who spent most of his life living at The Savoy in London, had business interests in music halls and theatres whilst owning farms dotted around Yorkshire.
He had mills generating an income from all over the world and owned Sunnybank Mills from 1917 till 1929 when his empire collapsed due to the financial fallout of the Great Depression.
The present day is no less eventful with an on site brewery, Amity Brew Co crafting the tastiest beers on a weekend and Saint Jude's Bar offering cocktails from 10am every day. Plenty of food is on site too from bagels at the latter, wood-fired pizza at Grumpy's, a quaint gallery tea room serving cake, Mill Kitchen with its epic brunch alongside Farsley Fire & Smoke with its high quality meats BBQ.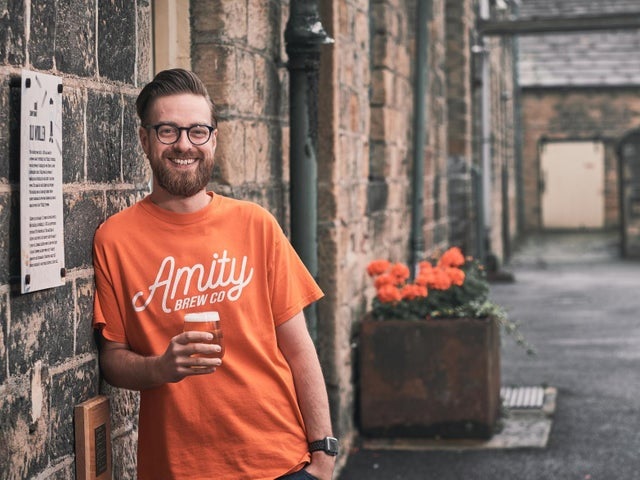 This success has paved the way for an award-winning distillery and cocktail venue to open up, Test Bar that's nestled within the Twisting Building. 
Billy Gaunt's passion for the entertainment world lives on with talents from the spheres of music, comedy and theatre gracing The Old Woollen events space. This year alone they've got two sold out shows by comedy star Gary Delaney, a night of Karaoke with Barry off Eastenders for Valentines night, Bez from Happy Mondays dropping in for a chat and some of the best tribute acts in this country.  
Info for all events can be found here.
Those on the quiet side of life can always find solitude browsing the works of emerging artists at indoor and outdoor galleries. Find a day when the studio spaces are open to stumble into a much more mature Disney Land of local art, the archive with all its history or my favourite being transported back into the Victorian era when walking down the right hand side of the Spinning Mill.
A tidy sum of £4million is getting ploughed via Project Boilerhouse so the Sunnybank Mills site can continue to build or support creative office spaces, incubator studios, education, shops and more. These are exciting times in our year of culture so come embrace all the excitement on offer.
Proving this point is Testament, a world record holding beat boxer who wrote on twitter "Everyone knows Farsley is a fictional place… It's much too fantastical".
It is a far cry from the days when the Inland Revenue and five leading banks circled the wagons at Sunny Bank Mills to recover debt. These days the site even has visits from the Shadow Chancellor Rachel Reeves, or you're meeting a friend for a coffee whilst the BBC's Emma Barnett interviews people from the community a couple of tables away, hosting a book talk in a packed out art gallery or championing the businesses operating here.
It seems Billy Gaunt sadly didn't spend much time at Sunny Bank Mills, according to the archives, but thank goodness his son did with their descendants still owning the site to this day. They have created a village within a village which is very much connected to a thriving high street. It is a beacon of hope in these bleak times. 
This enclave of independence has a story that is still unfolding so it's only a matter of time before someone captures it in better words than this, takes a photo that seals more visitors than what the place can handle and becomes a national treasure? 
More information on Sunnybank Mills can be found here.
Sponsored content