Could Bramley have its own skatepark? It was the subject of a 217-name petition last year – but could now be moving a step closer to reality.
Asha Oguri is an undergraduate student from the University of Leeds on a placement with Your Back Yard, a regeneration organisation which works with local people, businesses, councils and others to identify what is needed in each community, find the money for it, and make it happen.
Here, Ashi writes about her vision for a skatepark, possibly in Bramley Park …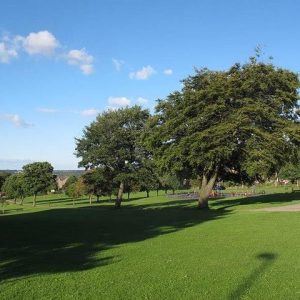 Over the past five weeks, I have had the opportunity to work with a fellow student on research regarding possible youth facilities – in particular, the idea of a skatepark – in the Bramley and Stanningley area of West Leeds.
The demand for youth facilities for local teenagers has been expressed by members of this community, with the idea of a skatepark as a recurrent idea in these discussions.
It seemed necessary, therefore, that research surveying the community around this idea should be done to help launch a skatepark for young people.
Youth facilities are certainly absent in many communities, so being involved in the skatepark idea was exciting for me as it felt like we would be contributing to something that local teenagers will undoubtedly benefit from.
As a young person I understand that having nowhere to go – especially for those too old to still be under the care of parents and too young to be going to the pub – is a problem as you are left to your own devices. A skatepark is a brilliant idea to give teenagers something to do as well as keeping them active.
The Bramley research
Research has been conducted in key areas including Bramley shopping centre, Bramley Park, Stanningley Park and residential homes nearby the parks.
It was important to gain responses from users and neighbours of the parks, as their support would be integral to launching the project.
We also had the opportunity to hold a session with Leeds West Academy's school council which was especially important for the project as local teenagers, who would be the users of the skatepark, were able to voice their opinions on the design and location of the skatepark.
Initial review of responses
We are currently at 96 completed surveys, just under our target of 100, and so we are beginning to analyse the general feedback from the locals.
From the data collated so far, we can see that overall support for a skatepark is a majority, as many respondents have emphasised the lack of facilities for Bramley and Stanningley's young people.
The favourite location for a skatepark is pointing towards Bramley Park due to its size and central location.
Our session with Leeds West Academy was really exciting for the project, as it is clear that local teenagers are really keen to help the project progress onto the next stage and with working up a design.
What do you think? Have your say in the comments section below …