Proposals for flood defences are going on show next month in West Leeds.
A series of drop in events are being held in Kirkstall, Burley, Rodley, Horsforth and Apperley Bridge, giving residents the opportunity to view options to reduce the risk of flooding to their homes and businesses.
An eight-week consultation starts today and runs until 16 November 2017.
Members of the project team will be available at the following events to explain the options, answer any questions and seek views.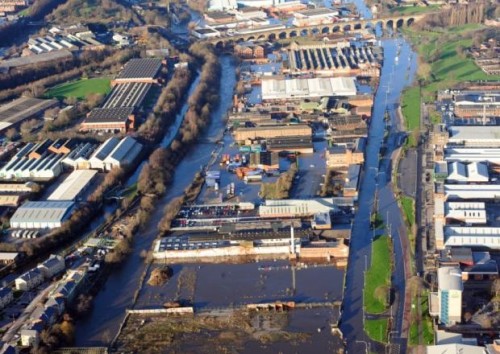 The consultation follows the Boxing Day Floods of 2015, which saw parts of Kirkstall, Burley, Rodley and the city centre submerged as the River Aire broke its banks as a result of Storm Eva.
Residents and business owners are invited to stop by within the following times to find out what is proposed:

Monday 2nd October, 3-7pm, Horsforth Community Hub, Town Street, Horsforth
Thursday 12th October, 3-7pm, Radio Aire, 51 Burley Road, Burley
Thursday 19th October, 10am-1pm, George & Dragon pub (car park), Apperley Road, Bradford
Thursday 19th October, 2.30-5.30pm, The Church (car park), Wesley Street, Rodley
Saturday 28th October, 9am-1pm, Kirkstall Leisure Centre, Kirkstall Lane, Kirkstall
Sunday 29th October, 12-3pm, Kirkstall Abbey Deli Market, Abbey Road, Kirkstall
As reported by The Dispatch earlier this week, proposals include:
Creating new woodland areas by planting hundreds of thousands of tree saplings on council-owned land, including unspecified locations in Kirkstall
The report also recommends the removal of a disused bridge at Milford Place in Burley and the removal of a platform under Gotts Bridge, Kirkstall.
Where possible, using sites in Leeds to temporarily retain flood waters when levels are high. Control gates would be used to fill and then release water from the stores back into river when safe to do so. Initial major sites identified in the report include Rodley Nature Reserve and at Apperley Bridge.
Smaller temporary flood water storage sites have been identified at Kirkstall Meadows (the rugby practice pitches on the opposite bank to Kirkstall Abbey) and Kirkstall Valley Nature Reserve
Removing existing obstructions along the river to help reduce water levels, along with also lowering the riverbed in places along the Kirkstall corridor to improve its capacity and flow.
Improving riverbank protection measures along the river catchment in Craven and Pendle along with enhanced woodland areas and installing debris dams.
A new 700-metre long flood defence at Stourton with new walls and surface water interventions similar to those installed at Woodlesford as part of phase one.
Building raised defences along with landscaping, terracing, embarkments and walls, but due to the range of natural measures the height of any engineered defences will not need to be as high as previously projected.
Leeds City Council executive member for regeneration, transport and planning Councillor Richard Lewis (Lab, Pudsey) said:
"The response to these plans when they were released last week was very positive, especially the use of new trees and natural flood management measures along the catchment to help provide essential protection for communities in Leeds.

"It is now vitally important we hear the views of residents and businesses so I would encourage as many people as possible to take part in the consultation and attend these drop-in sessions.

"Following an extensive study agreed with the government and other agencies these are the measures identified as being necessary to offer the level of protection needed which the government said it would provide, so we look forward to seeing these plans develop as soon as possible."
Members of the council's decision-making executive board agreed yesterday to put forward a business case to the government to invest an initial £3.4million in advanced works, including tree planting, vegetation and channel clearance between Rodley and Leeds Rail Station as well as the Stourton defences and the removal of a redundant bridge at Milford Place and a platform under Gotts Bridge.
The plan for phase two is then for an overall business case for the entire scheme to be submitted to government by the end of this year which if approved could see work on the major elements begin early in 2019. All of the works on phase two are estimated to cost approximately £101 million.
Leeds FAS Phase 2 Consultation Leaflet by John Baron on Scribd
The first phase of the Leeds Flood Alleviation Scheme has seen formal flood defences installed along the River Aire for the first time.
The project began with works downstream in Woodlesford, which proved effective during the Christmas 2015 flooding, before moving into the city centre with measures featuring the introduction of mechanical weirs to control river levels. The second phase will focus on measures upstream of the city centre.