It's taken months of lobbying and campaigning from the local community – but Kirkstall Morrisons has at last agreed to tackle the problem with dumped shopping trolleys in the River Aire.
As previously reported, volunteers cleaning up the River Aire this year following the Boixing Day floods have been fishing out dumped trolleys on a regular basis.
Ten trolleys were pulled out of the river during one clean-up alone.
@Morrisons @Lucinday the Goit between Kirkstall Morrisons and Big MCs Storage 14/08/2016. pic.twitter.com/ymBO3g9ybr

— Steve Harris (@BurleySteve) 14 August 2016

Morrisons has now agreed to a number of actions including improving signage for customers, improving the security of trolley bays when the store is closed and has tasked a contractor to remove trolleys from the river between the Morrisons store and Big MC's Container Storage.
The agreement came after Kirkstall councillor Lucinda Yeadon held a crunch meeting with Morrisons, the Environment Agency and Open Source Arts which runs the River Aire clean-ups.
Cllr Yeadon said:
"I am really pleased that Morrisons have agreed to put 'Trolleywise' in place in our area. This is an encouraging step forward and I hope that we see some positive action as a result.

"Almost one year on after the Storm Eva floods and I am still overwhelmed by the community spirit shown by volunteers, many of whom are still giving up weekends to help join us with the Kirkstall clean ups and I would like to thank everyone involved for all of their hard work and team spirit."
Jon where were u when we needed you??! @Morrisons @lucinday @Clean_Leeds @WLDispatch @teamkirkstall @JonathanMoxonEA pic.twitter.com/5Q48XsWRt5

— Open Source Arts (@Opensourceleeds) 6 August 2016
There have also been widespread reports of shopping trolleys dumped across the Kirkstall and Burley area, not just in the river.
Cllr Yeadon had written to Morrisons earlier back in August to express her concerns: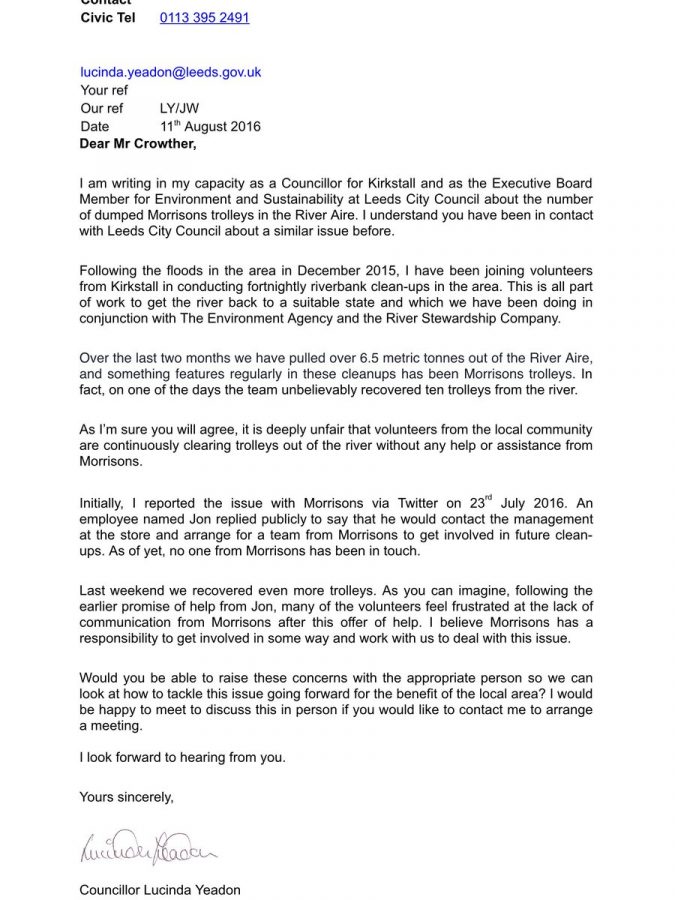 What do you think? Will these measures tackle the problem? Have your say in the comments section below.