A Kirkstall councillor is calling for Morrisons to help sort problems with shopping trolleys being dumped in the River Aire.
Councillor Lucinda Yeadon (Lab, Kirkstall) is one of the volunteers carrying out regular clean-ups of the River Aire following the Boxing Day floods which left parts of Kirkstall under several feet of water when the River Aire burst its banks.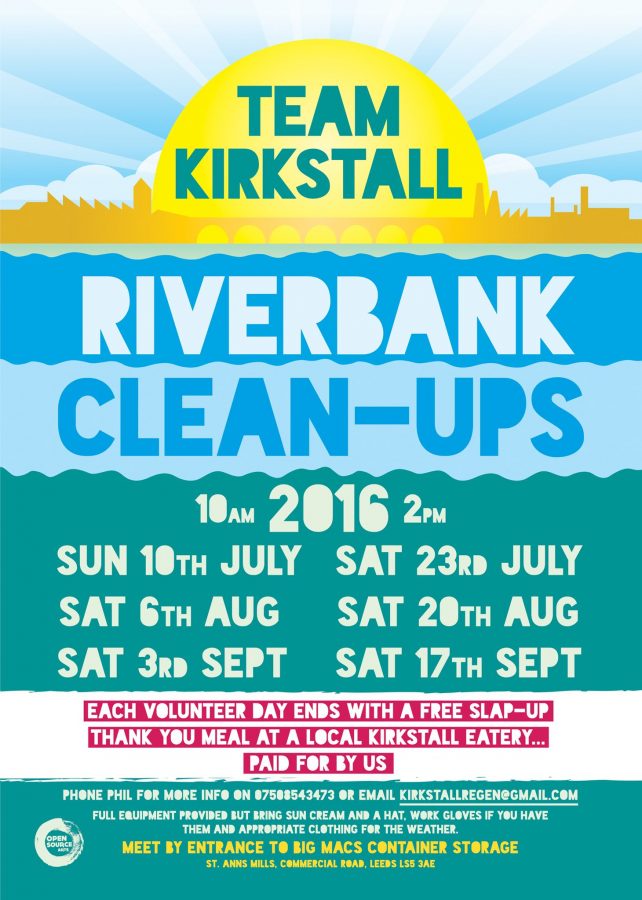 The clean-ups have so far pulled out six and a half tonnes of rubbish from the Aire.
But volunteers are frustrated by the number of dumped trolleys from Kirkstall Morrisons store that they're having to pull out and are asking the Bradford-based chain to help resolve the problem.
On one day alone the team pulled out TEN shopping trolleys from the Aire.
@Morrisons @Lucinday the Goit between Kirkstall Morrisons and Big MCs Storage 14/08/2016. pic.twitter.com/ymBO3g9ybr

— Steve Harris (@BurleySteve) August 14, 2016
In a letter to Morrisons shared publically on social media and reproduced below, Cllr Yeadon says:
"As I'm sure you'll agree, it is deeply unfair that volunteers from the local community are continuously clearing trolleys out of the river without any help or assistance from Morrisons."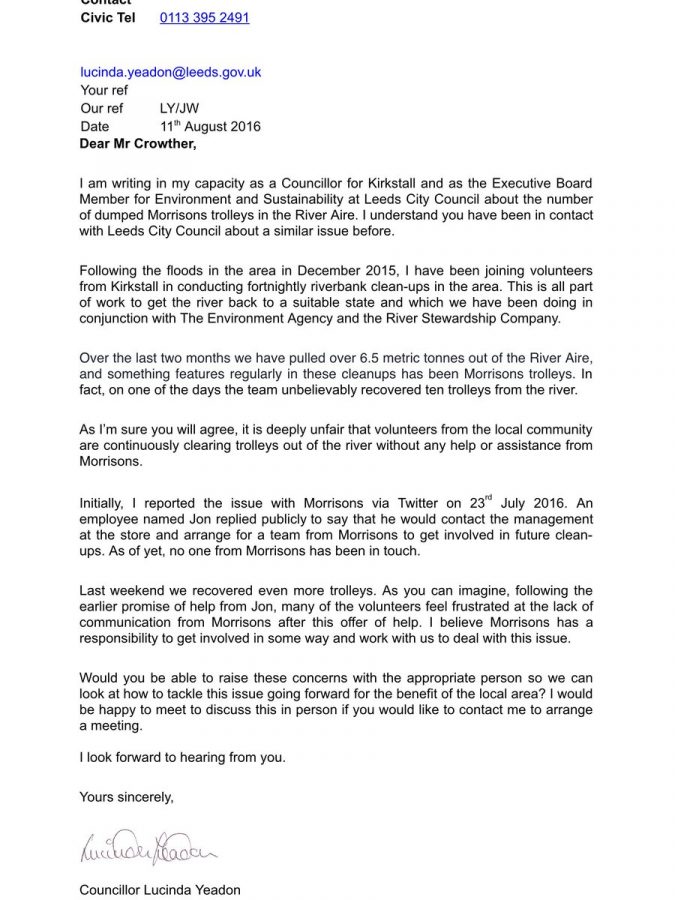 She said Morrisons had agreed last month – via an employee called Jon on the supermarket's Twitter account – that someone from the Kirkstall store would be in touch to arrange possible involvement in the clean-ups, but no-one from had been in contact. Cllr Yeadon added:
"… I believe Morrisons has a responsibility to get involved in some way and work with us to deal with the issue."
Jon where were u when we needed you??! @Morrisons @lucinday @Clean_Leeds @WLDispatch @teamkirkstall @JonathanMoxonEA pic.twitter.com/5Q48XsWRt5

— Open Source Arts (@Opensourceleeds) August 6, 2016
It's understood Morrisons has now been in touch with Cllr Yeadon in a bid to resolve the issue.
Thanks to Charles at @Morrisons for responding to my letter so quickly. Looking forward to hearing the solution to our trolley woes soon.

— Lucinda Yeadon (@Lucinday) August 11, 2016
The Dispatch contacted Morrisons press office for a comment on Friday. We're still waiting for a response.