A homeless people's charity was in danger of itself becoming homeless itself until volunteers rallied round to help find them a new base in Armley Road.
Leeds-based Simon on the Streets provides outreach support to rough sleepers, homeless people and others in danger of becoming homeless due to a range of needs such as drug and alcohol dependency and mental health issues.
The charity emailed out an urgent cry for help to all its supporters after receiving an eviction notice giving them just two weeks' to vacate their Leeds office base.
Malik House Business Centres, which runs the Crown House Business Centre in Armley Road, responded quickly to the call – and the charity is now moving into a new home in the state-of-the-art complex, narrowly avoiding being homeless at Christmas.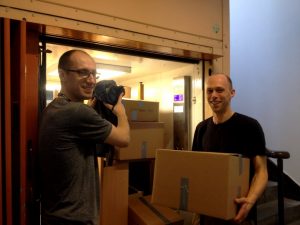 The charity's development manager Sue Oliver said:
"It would have been a real irony if Simon on the Streets had itself become homeless. For a small charity like ours it was a huge challenge to find affordable new premises in just two weeks without diverting resources from where they are most needed.

"However, thanks to our supporters and volunteers getting the word out we've been able to achieve a really positive outcome and we now have an ideal permanent home. Crown House gives us easy access to Leeds City Centre and other parts of Leeds where there is a lot of work to do.

"Once we'd got over the shock of the eviction notice, it seemed the obvious thing to reach out to our supporters for help. The response was tremendous, and the volunteers have also rallied round to help us with the move, so we are all feeling very positive again right now."
Sheraz Malik is Director of Malik House Business Centres and YEN (Yorkshire Enterprise Network). He said:
"It's great to be in a position to help such an amazing organisation as Simon on the Streets who do so much good work for the most vulnerable people across the city. It's fantastic that we now have them housed in one of our buildings which means we'll be in a good position to forge a close relationship with the charity and support them in various ways through the Yorkshire Enterprise Network."
The business centre opened last year after a £1m refurbishment of the historic Leeds Forge site in Armley.