By Damon Sugden
With ambitious plans to expand its offering, was this the Old Woollen's big break?
A concert originally booked for Leeds Beckett Uni, the Yorkshire leg of the Soul Asylum / Everclear double header was moved last minute to Farsley due to strong demand for tickets needing more space.
It's not every day you get a Grammy winning American rock band roll up in their tour buses in your back yard. And the venue was perfect for this genre of in-yourface alt rock – normally fan access to this kind of band is at a distance behind crowd control, but here it is touching distance with the mic stands the only barrier to the artists.
Everclear open the evening with an hour of their high energy punk playing notable tracks 'Father of Mine', 'AM Radio' and 'I Will Buy You a New Life'.
They had a decent number of their own hardcore fans along to enjoy them, and got the whole crowd warmed up for the multi-Platinum alternative rock legends that are Soul Asylum.
Soul Asylum's extensive catalogue of songs are often visceral, punchy and full of the spirit that was to influence the grunge scene of the 90's.
Most noted for their 1993 hit 'Runaway Train' from the Grave Dancers Union album (there were three original versions of the song's video in the United States, featuring 36 missing children – 26 of the children were eventually found).
They kicked off with 'Got It Pretty Good' then went full throttle through 21 of their best songs, finishing with 'Looking at You' and 'April Fool'.
The demographic of the crowd was definitely Generation X biased but there were plenty of younger music fans there too enjoying the evening.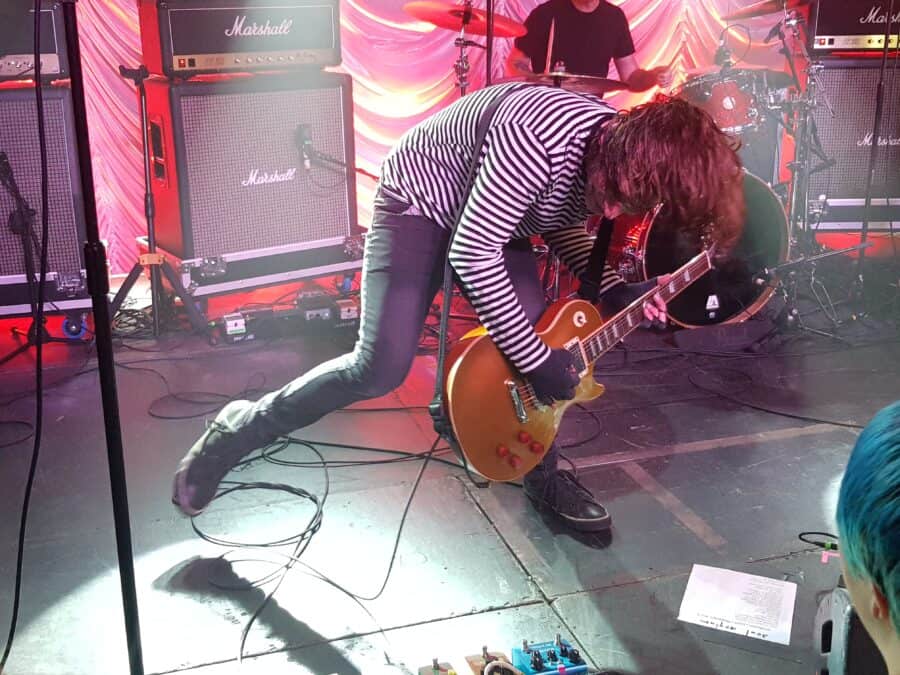 This was my kind of music and a great chance to get to know this band in a way that cannot be replicated with downloads or streaming. 
Curious to know the opinion of fans that had not been to the Old Woollen before, WLD asked some of them what they thought of it as a venue, and how they got there.
Emma, Steven, Jules, and Kenny enjoyed Everclear and had even given them a preview listen before the gig, "they got better as they went on", the sound was rated as a bit of a challenge (for the style of music – the Old Woollen is on a learning curve and this will only help) "its a nice venue though – much better than where they were supposed to be" (Leeds Beckett).
So do you think it was a good switch? – "Yes, more welcoming"
Is this the first time you've been down to Farsley? – "Yes!"
Where have you travelled from? – "We live in Farnley and Wortley, and have driven down" (there is plenty of car parking) "but are definitely here to see Soul Asylum".
WLD did meet another fan who had traveled in via train to the nearby New Pudsey Station.
A long distance award goes to Becky who lives in Dundee and travelled down specially, and said: "This is the first time in my life I have ever seen them and the only chance. My dad got me into them when the Dancers Union album came out and I've been a lifelong fan. Depending on circumstance and tour times I would love to see them again." 
Becky is sporting a fantastic Rupert Bear tattoo on her back, but also showed me her 'Runaway Train' Soul Asylum tribute tattoo underneath it. That's exceptional support both for the pilgrimage and the tattoo!
Overall a great showcase for both bands, the Old Woollen venue, and Farsley as a destination.
Sponsored content