By Leeds West MP Rachel Reeves
I'm glad to see that progress is being made on the project to bring a sculpture to Leeds celebrating the role of the city's women.
Some time ago (pre-Covid!), together with Leeds Arts University, I set up a project to erect a sculpture in Leeds to mark the hugely important role that women have played over the years and to help redress the lack of sculptures of women in our great city.  
After submissions from several artists and a selection process involving an exhibition and public votes, West Leeds' Pippa Hale was chosen the successful artist, with her sculpture "Ribbons." The sculpture will be inscribed with the names of 200 Leeds inspirational women, chosen through nominations from the public.
It was a great relief to meet members of Leeds Arts University and with Pippa Hale recently to discuss progress and finally get things moving again. The project is still a while off completion and installation – but I'm so proud to be involved and can't wait to visit the finished sculpture when it's in place!
Armley Horses brighten up Armley Park
On a recent visit to Armley Park I had a chance to see the Armley Horses. The textile sculptures, which celebrate the area's industrial heritage, made the park their home for a few weeks in May and June.
I was fortunate that it was a glorious day when I visited, and the horses' vibrant colours were visible from Stanningley Road. As previously reported, they were created by local artists Amelia Wood and Rosie Vohra (working out of Armley's Assembly House Studios), in collaboration with local knitting and crochet group Hookers and Clickers.
The detail of their sewing, knitting, crocheting and embroidery is very impressive. The Armley Horses are part of the build-up to the Leeds Year of Culture 2023.
You can find out more about this fascinating collaborative project here:
Shopping to support Hidden Owls in Armley
Alongside Armley Councillor Lou Cunningham, I recently visited Hidden Owls in Armley. What a great place it is!  
As well as picking up some bargains, I also had a chance to find out about the project and meet Andy Howarth (founder of the Howarth Foundation which runs the project) and volunteers Carl, Emma and Dianna.
Hidden Owls is more than a second-hand shop – it's a re-integration and recovery programme for those who have homeless, are fleeing domestic violence, or have lived a chaotic lifestyle for other reasons.
Speaking to the volunteers, it was clear that those involved with the project have gained confidence, made friends, and developed a sense of purpose. This is the first step in being supported into meaningful employment. I can't wait to go back and pick up more bargains too!
Working to improve play equipment at Western Flatts Park
I recently visited Western Flatts Park to see for myself the condition of the play equipment there.  As reported by WLD earlier this year, more than 1,000 local residents have signed a petition calling for the equipment to be upgraded.
Following my visit, I met Leeds City Council leader Tom Riordan, along with Leeds West councillors Lou Cunningham and Kevin Ritchie to raise residents' concerns.  Farnley and Wortley local champion Matt Gibson was also able to attend.
It is clear that our green spaces, which have been so essential to our well being during lockdown, are in need of significant investment. I will continue to work with the local authority to support local residents and to try to secure the funding to make this happen.
Back in class at Kirkstall St Stephen's School
It was lovely to actually get back inside a local school recently. All my visits over the past year have been either virtual or outside in school playgrounds, due to Covid restrictions.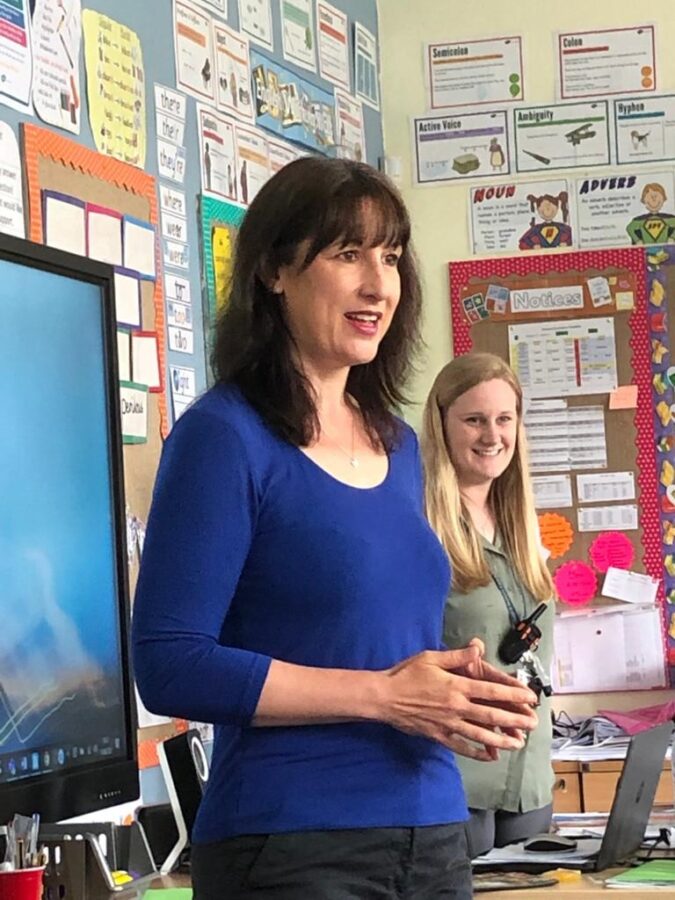 The children in Year 5 at Kirkstall St Stephen's shared their creative writing with me, and grilled me on topics such as local building proposals, Covid restrictions, and my hobbies and inspirations.
Their campaign to ensure the school retains its school crossing warden is a great example of local democracy in action – and proves you are never too young to make your voice heard. 
Seeing where it all started for a Leeds & England star at Wortley FC
Visiting Wortley Football club's new ground was a real treat – with magnificent views across West Leeds too.
Community sport relies hugely on committed individuals such as the team at Wortley and I am very grateful for everything they do for our community. We spoke about the funding difficulties facing sports clubs like theirs because of COVID. I also saw their plans for updating the changing rooms, to make sure that their players have access to the best facilities.
I hadn't realised until I visited that Wortley FC trained Leeds and England star Kalvin Phillips – what a feather in their cap! I'm looking forward to visiting again soon. 
Leaping into the future at West Leeds Activity Centre
Twenty years after my predecessor and former Leeds West MP John Battle opened West Leeds Activity Centre, I was pleased to go along and open their new Bushcraft area, along with Kirkstall Councillor Fiona Venner.
The centre does lots of work with community charity BARCA, and with schools and youth groups across the constituency. It was great to see children from Castleton during my visit.
I had a chance to try some of the activities out for myself , including archery and the "leap of faith" (a climbing activity that involves scaling a long vertical pole and then jumping out into space to hit a suspended ball!) Thankfully, both a helmet and a safety harness was provided!
Local heroes – returning for 2021
You may remember last year I launched my West Leeds Local Hero awards. These celebrated individuals and groups in the local community that had gone above and beyond during the worst of the pandemic.
I'm pleased to announce these will be returning in mid-July, and we will announce winners weekly. Nominations are now open – please send suggestions for your West Leeds Local Hero to Rachel.reeves.mp@parliament.uk
You'll need to include details of why you have nominated a particular individual or group, along with contact details (preferably your phone number) in case we need to talk to you.
Last year, we had lots of nominations, and even though not everyone received a certificate of thanks, it was great to read the nominations.  I'm looking forward to hearing more about those individuals in our community that inspire us all.