Fancy some Hallowe'en pumpkin carving or some gentle Bonfire Night celebrations? Community reporter Emily Carlill brings details of a couple of family friendly events at community run Kirkstall Valley Farm…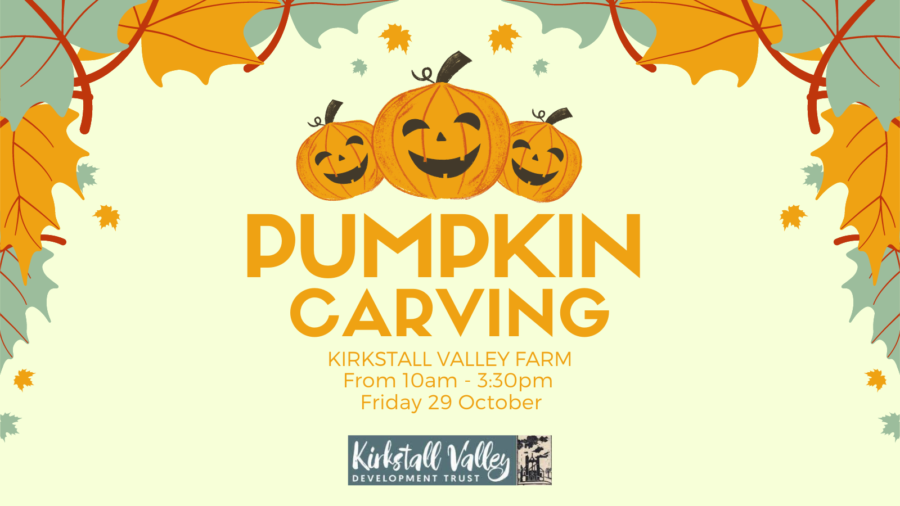 Pumpkin Carving on the Farm
Friday 29 October 2021, 10am–3.30pm
This Halloween, join Kirkstall Valley Development Trust (KVDT) for some non-scary fun this half-term holiday. Come down to the Kirkstall Valley Farm, pick a pumpkin and get carving!
£5 per family ticket – includes entry to the event, one pumpkin and a battery tea-light, use of templates and carving tools. Refreshments will also be available. There is also an option to purchase more pumpkins for an additional £2 per pumpkin.
Hourly time-slots are available to book throughout the day running from 10am to 3.30pm. Places are limited so please book early to avoid disappointment. Please visit the KVDT event booking website here and book your preferred time-slot.
Should, in the unfortunate event we need to cancel this Pumpkin Carving on the Farm due to bad weather or changes in Covid guidelines, you will be issued a refund and be able to collect your pumpkin from the farm to avoid these going to waste.

Firepits and Festivities
Friday 5 November 2021, 6pm – 9pm
This year KVDT are hosting some gentle Bonfire night celebrations with their Firepits and Festivities event.
Get wrapped up and venture down to Kirkstall Valley Farm where you can wander around, socialise and enjoy the numerous small firepits that will be dotted about. There will also be food, drink and music to entertain.
KVDT are socially and environmentally conscious so there will be no fireworks. You are welcome to bring sparklers but no other fireworks will be permitted. Please respect the land, crops, local wildlife and other people.
Health and Safety: Whilst there will be volunteers on site to help, the safety of children is the responsibility of their parents or carers. As it will be dark and the ground uneven, please take extra care.
£5 for a family ticket (up to 6 people) or £2 per individual. Please visit KVDT's event booking website here and book.
Should we need to cancel this event due to bad weather or changes in Covid guidelines, you will be issued a refund.
Seeking Volunteers to help at these events! If you are able to offer some time to volunteer at either of these events, please get in touch with Emily Carlill at emily.carlill@kvdt.org.uk.
KVDT is also seeking volunteers on Wednesday 13 October, from 10am and 1pm, to help move boxes and furniture at its new community space in Flexspace on Burley Road as we get our community hub ready for opening to the public. Contact Elizabeth Hayes at elizabeth.hayes@kvdt.org.uk.
Other Opportunities coming up…
Harvesting on the Farm
Potatoes are ready to harvest! Farm staff and volunteers plan to start this muddy task on Monday from 1.30pm onwards. All ages welcome, come and lend a hand – great fun for the kids! If you would like to get involved, contact Rhian Williams at rhian.williams@kvdt.org.uk.
Follow more on West Leeds Dispatch's coverage of KVDT here.