Ambitious plans to transform a historic former church and nightclub in Pudsey into 20 one-bedroom flats have been refused by Leeds City Council.
Pudsey-based Mossfold Developments Ltd had wanted to transform the landmark Grade II Listed Trinity Methodist Chapel, off Lowtown, by transforming it into self-contained flats with car parking.
Trinity closed as a church in 1982 and was used as a shopping arcade throughout the 1980s and 90s, as well as an arts centre, Citizens Advice Bureau and cafe. Most recently it was a nightclub, which closed three years ago due to anti-social behaviour.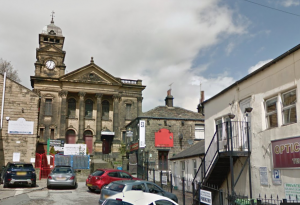 But council planning officers rejected the flats plans, saying they 'over-developed' the site and raised concerns over the size of the flats. A report refusing the application said:
"…the proposed alterations are unacceptable as they would result in the loss of architectural detailing, original patterning of window openings and external doors and introduction of an external staircase which would be considered incongruous and detrimental to the special historic character of this Grade II Listed building."
Planners also said the car park would adversely affect the character and appearance of the area.
Mossfold had pledged to incorporate and even enhance as many of the building's historical features as possible
The development had already been scaled back from original proposals for 30 flats.
The chapel dates back to around 1899.
WLD featured the original proposals last November.
_____________________
While you're here…
Producing your daily dose of West Leeds Dispatch comes at a cost!
There's the hosting of the website you're reading now, running our popular e-mail newsletter, membership of independent press regulator Impress, attending summer events, paying for equipment etc etc.
We need at least £200 a month just to break even – that's money currently coming out of the pockets of dedicated volunteers who are passionate about what's happening in our communities, connecting you with local groups and organisations as well as holding decision-makers to account and championing local issues.
And all that's BEFORE we even think about paying something for people's time – for instance, our editor puts in more than 24 hours a week in his 'spare' time to ensure The Dispatch publishes daily.
To put it bluntly, after nearly four years of daily publishing, we are not sustainable!
And we need YOUR help to continue …
For the cost of less than a couple of cups of coffee you can help support local community news and continue to give our communities a voice by taking out a subscription for just £4 per month (that's just a pound a week).
As a thanks you'll get your name on a roll of honour on our website. More importantly you will be enabling us to keep bringing you the news that matters about your neighbourhood.
Achieving a bedrock of supporters will give us a firm financial footing and help us plan for the future.
Supporting us couldn't be easier…
Just follow this link.
Over to you …