The new building at New Wortley Community Centre will be officially opened during a popular community festival.
New Wortley Community Centre's new £680,000 building, which sits alongside the old one, was orchestrated by New Wortley Community Association and funded by The Big Lottery.
The official opening, on Saturday 6th May 2017, is the culmination of seven years' planning and hard work to make local residents' dreams become a reality.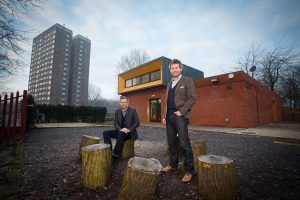 It comes as part of a weekend of community fun with the New Wortley Festival, which first launched over a weekend last year. Plans feature a raft of events to mark the opening, including a pay as you feel community cabaret.
A spokeswoman said that although the new building has been in operation since last year, the official opening is a reason for local celebration. She added:
"In the spirit of this being community led project the new centre will be opened by members of the New Wortley community, both young and old, who will benefit from this great new resource.

"The new building is already well used by local residents and provides a range of activities including volunteering, adult education and health and wellbeing.

"The new building is a 'stand out' landmark on the famous Tong Road route into Leeds and has already gained much attention from its distinctive look and presence on the edge of the road."
The new building was designed and built in collaboration with Leeds Beckett Universities Project Office and has recently won a global 2017 Social Economic Environmental Design (SEED) Award.
New Wortley Community Association, who owns the centre, is a charity founded and run by members of the local community. The board of trustees, staff and volunteers work in conjunction with other local projects, charities and public sector organisations to help residents of the local area improve their quality of life, raise aspirations and offer hope and opportunity to the people of New Wortley.
In the past 12 months more than 20 local residents have found employment after volunteering at the centre.
An innovative project to help offenders adjust to life after leaving Armley Jail is also proving a big success.
And the centre is piloting a GP counselling scheme at the centre, helping local people take care into their own hands.