Kick up a Yule-tide storm with live music from the New Wortley All Stars. Music for the people – by the people! writes community development worker Tim Dawtry.
Plus there will be classic punk and punked-up classics from Molotov Jukebox and the one-man musical madness of Terry Acoustic.
A night of great live music at the best community centre in Leeds. Donation on the door. Hot food will be served through the night. There will be a great friendly atmosphere with a strong possibility of some raucous Christmas singalongs.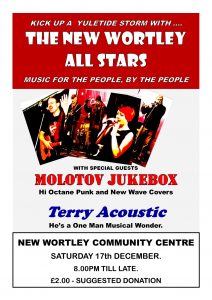 The gig is on Saturday, December 17, 8pm til late. Entry is by a suggested donation of £2.
The New Wortley All Stars are an "open access" rock'n'roll band based in New Wortley. Anyone can join, regardless of their musical experience.
We provide instruments and basic music tuition. We have been going for 18 months and have seen members develop from people who have never touched a musical instrument before to confident performers playing live gigs to pubs full of people. We have developed some real talent along the way.
We don't play any particular style – just whatever people want to do. We have an age range that goes from 14 to 68 and we have member from as far afield as Columbia and Vietnam. We cant promise musical perfection – but we can guarantee a great atmosphere, a shed load of fun and buckets of energy and enthusiasm.
Music by the people – for the people!