Leeds West MP Rachel Reeves is encouraging people to back Bramley Baths and become a Friend of Bramley Baths to ensure the community-led facility re-opens after Covid-19.
The social enterprise, based in Broad Lane, Leeds, temporarily closed in March due to the Coronavirus pandemic and, like many independent businesses, faces a difficult financial challenge.
Ms Reeves – who also backed the original community bid to take over the running of the historic Edwardian facilities back in 2013 – has lent her support the Friends of Bramley Baths scheme, which people can join for £4.65 a month – the cost of a swim, gym, steam session or class.
Ms Reeves posted on her social media channels:
"Beautiful Bramley Baths has been serving our Leeds West community since 1904. I've fought before to save our historic Baths – let's not lose them now!"
Becoming a Friend gives people the chance to get even closer to the Bramley Baths family. Friends have voting rights at its AGM and receive a raft of benefits including badges, a water bottle, access to a celebratory event when the Baths re-open and lots more.
Launching the Friends' scheme last month, Bramley Baths chief executive Jayne Young said:
"Times are difficult for independent businesses like us, but we're determined to remain at the heart of the Bramley community, despite our temporary closure.

"By becoming a Friend you'll also become more closely involved with the warm, sociable and friendly Bramley Baths family, as well as doing your bit by supporting a much-loved community institution.

"If you can, please help shape our future by becoming a Friend of Bramley Baths for the price of a swim, class or steam each month."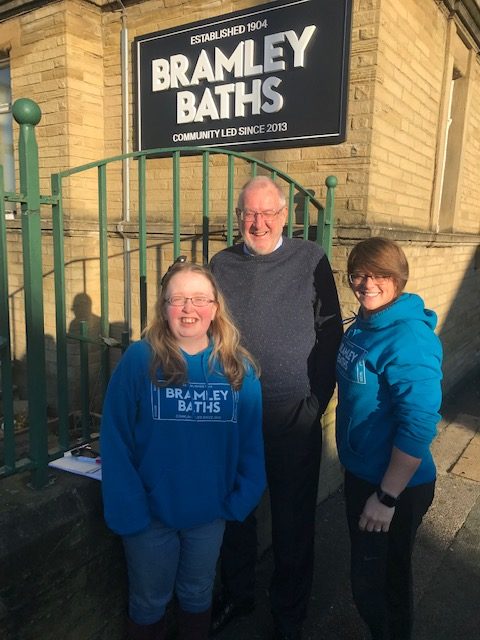 Bramley Baths chairman John Battle added:
"I hope the incredible groundswell of support and love we've had over the years from the community continues as we look to secure our future."
You can become a Friend of Bramley Baths from £4.65 a month here.