It's the last day to support a Lower Wortley Primary School pupil by buying her T-shirt to raise funds for Leeds hospitals through Leeds Cares, writes Josie Armitage.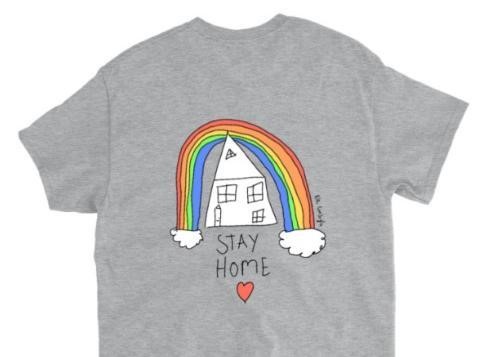 You can buy it here.
Kiki Consiglio, aged eight, drew a picture to remind people to stay at home as part of a homework project during the lockdown.
Her mum and dad arranged for her design to be made into a T-shirt by Awesome Merchandise, a Leeds-based design brand which has a platform called Mercht.
Kiki said:
"I wanted to see if I could help raise money to help people with coronavirus. Lots of people are working very hard in hospitals. I want people to stay at home and do the right thing. I drew a rainbow over our house and wanted to remind people to stay home."
Proceeds from sales of her 'Kiki says stay at home' T-shirts will go to www.leeds-cares.org, the official charity which covers eight hospitals within the Leeds Teaching Hospital Trust.
Sasha, Kiki's Mum said she was very proud of her daughter's efforts, and added:
"So far we have raised £320 for Leeds Hospitals and hopefully can push it a bit more today on the last day."
If you can spare £20 to support Leeds hospitals and buy a t shirt for keeps, please do so here.