I was having a look around New Wortley Cemetery and having no luck at all in finding what I was looking for when I came across a gravestone to the memory of Lydia Grandidge and her daughter Eva Mary, writes Mark Stevenson.
Lydia lived with her family on Mistress Lane in Armley, before getting married to Arthur in December 1906 in St John the Evangelist, Wortley.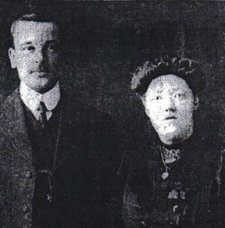 They emigrated to 
New York
 a few years before WW1. 
Lydia
's sister in Leeds became ill and she decided to visit her and bought second class tickets for her and Eva aboard the
 RMS Lusitania
.
The Germans had put adverts in all the major American papers saying the ship would be sank if sighted.
On Friday 7 May 1915 not far off the coast of Ireland the Cunard ocean liner RMS Lusitania was hit by a torpedo and sank in 18 minutes killing 1,198 and leaving 761 survivors. Lydia's body was never found.
Eva Mary is buried in the Lusitania Mass Grave, Cobh Cemetery, County Cork, Ireland.