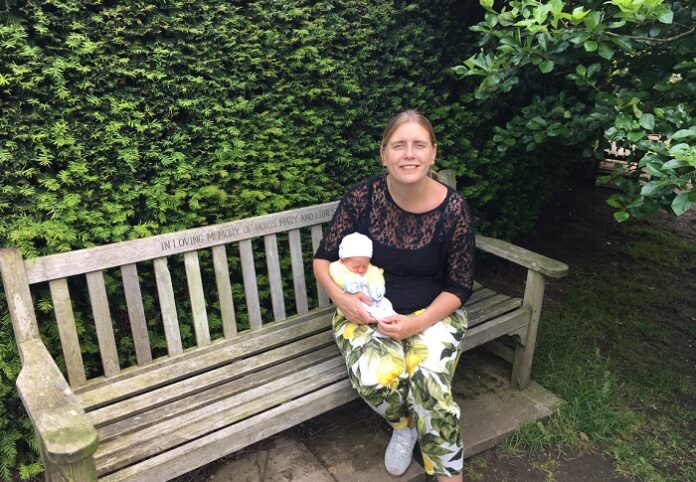 ALMOST as an afterthought, Bramley resident Ellie, 37, mentioned she was having abdominal pains during her regular Saturday Zoom call to her sister, writes Jo Fiddes.
At 34 weeks pregnant, she was still working full time and had been making the best of her first pregnancy, where coronavirus restrictions meant most midwife consultations were by phone and partners weren't allowed at the scans.
Just getting on with it seemed the best way to approach the whole situation, but as she became increasingly uncomfortable Ellie decided to take her sister's advice and make a precautionary visit to the hospital.
After some monitoring the staff decided to keep Ellie in overnight so partner Christian, 42, was despatched home with an optimistic wave and a shout of "I'll ring you tomorrow so you can come and pick me up."
When Ellie did ring Christian the following day, the message was rather different – "Come now, they've decided I need an emergency caesarean."
Six weeks before his due date, baby Theo had decided enough was enough and wanted to make an appearance. Weighing in at 5lb 3oz he needed specialist care and Ellie and Theo spent 11 days on the transitional care unit.
As he was so premature, Theo struggled to take milk and was initially fed via a naso-gastric tube.
Christian was able to be at the birth and spend a couple of precious hours with the new addition – but then he had to leave and wasn't allowed back in the hospital throughout Ellie's stay because of Covid restrictions.
This meant Ellie had to navigate the first days of parenthood by herself, with Christian providing emotional support as best he could through telephone and Facetime conversations.
A lack of private space in the hospital itself meant these "private" conversations were anything but…which added another level of stress in an already stressful situation.
Everyone wearing face masks was something Ellie found really difficult, not being able to see people's expressions when they were trying to convey information, offer support or words of encouragement – it led to misunderstandings too, including Ellie thinking she wasn't allowed to shower for four days after her operation, an instruction she misheard because it was muffled by the consultant's mask.
After 11 long and lonely days, Ellie and Theo were eventually allowed home, much to the relief of everyone.
Reflecting on the experience of having a premature baby in lockdown, first and foremost Elli acknowledges the dedication of the staff on the ward.
As an NHS mental health worker herself, she knows first-hand how hard they work.
But she added:
"I would say I feel a bit cheated by the whole situation.
"I had hoped my first pregnancy would be really special – I was looking forward to baby showers and antenatal classes and meeting new mums at baby massage classes.

"I really missed things I had taken for granted, like my mum feeling my baby kick. The birth itself was a bit of a blur, as it all seemed to happen so quickly and obviously we were worried as he was coming so early.

"I hated being in the hospital – it was a really lonely and isolating experience. I had to say goodbye to Christian hours after Theo's birth. This was really upsetting for me but also for him.

"Then when we eventually came home not being able to show him off, and family not being able to give him cuddles was really hard too.

"I feel I've really missed out on so many of the joyful experiences of pregnancy, although of course we have Theo so that's made up for all the bad bits.

"On the plus side, Christian is working from home so it has meant we have had extra precious time as a family unit. Not being able to go out has also meant we have saved money, which has come in handy with a new baby!"
Christian added:
"I just keep thinking we got through it as a family. It was really hard and I feel we've all missed out, especially Ellie, but at least it's a story for the grandkids!"