By John Baron and Simon Cullingworth
A campaign to provide free food for hungry kids across West Leeds has led to dozens of cafes, community centres, businesses and community activists stepping up.
The response follows a defeated House of Commons motion – led by Manchester United footballer Marcus Rashford – which would have seen free school meals for kids extended through the holidays.
The generosity of people is personified by workers at Carol's Confectioners on Bramley Town Street, which WLD first featured on Friday.
Community reporter Simon Cullingworth spoke to Samantha Atkin, who works at Carol's, about the initiative.
She said that as a parent herself she thought something needed to be done during the school holidays to ensure that children didn't have to go hungry.
The team at Carol's then decided to ask for donations from customers and local businesses.
So far over £300 has been raised.
The free lunches can be collected from the shop directly, alternatively you can contact them on 0113 2572939 to arrange a delivery in the West Leeds area.
To donate, please call 0113 2572939.
For more information please visit Carol's confectioners on Facebook.
Here's the full list so far:
Popalong Cafe, Stanningley
149-151 Bradford Road
Stanningley
LS28 6AT
Call between 9am and 10am to arrange, on 0113 256 0477
Pudsey Parish Church
Church Lane
Pudsey
LS28 8BE
Providing hampers to families with children on Free School Meals in Pudsey, Calverley, Swinnow, Woodhall, Tyersal, Farsley, Rodley & Calverley
The Learning Curve
Unit 43b, Springfield Commercial Centre
Bagley Lane
Farsley
LS28 5LY
Prepaying vouchers available for free meals at Whiteheads, Farsley, and The Loft Coffee Shop, Farsley
New Wortley Community Association
40 Tong Road
Armley
LS12 1LZ
Carol's Confectioners
296 Upper Town Street
Bramley
LS13 2ER
Will provide 20 free packed lunches per day from Monday to Friday. Please message their Facebook page the day before to prepare, collection between 11am and 12pm.
Florence Cafe
The cafe on Branch Road in Armley are also helping out by offering 60 free children's meals daily between 10am – 12 noon Monday to Friday.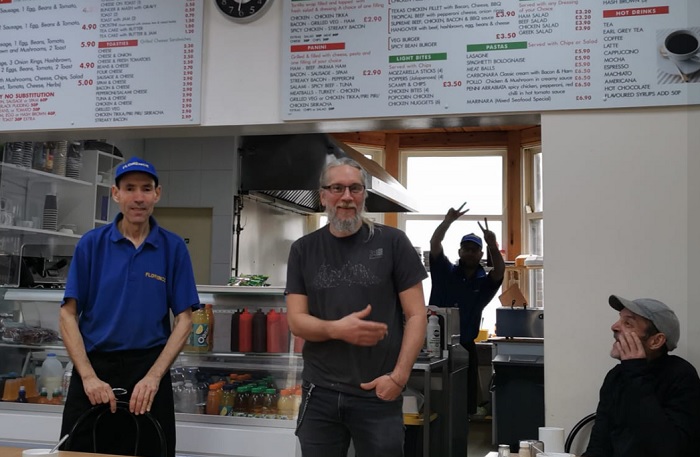 Sunshine Mills Business Park, Armley
Tommy Massey contacted WLD with details of this initiative from businesses at Sunshine Mills Business Park in Armley, who have come together to fund a daily hot meal for children in need in the LS12 postcode: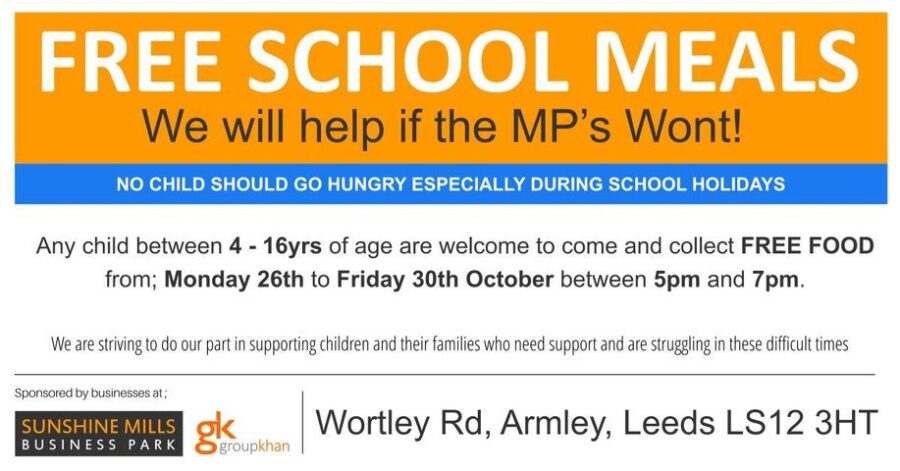 Unit 11, Kirkstall Valley Development Trust
Today Unit 11 had 51 portions of macaroni cheese with ham, 20 portions of macaroni cheese, 34 portions of vegan soup and 32 sandwiches with vegetarian fillings. Ready for collection. Free food is available all week after a fundraiser by Cllr Hannah Bithell netted more than £1,000.
Waterloo Fisheries, Pudsey
From Monday 25th to Friday 29th October any child who qualifies for a school meal will be provided with a free meal between 2pm and 4pm. Please message in advance if possible.
Megabites, Pudsey
Linley & Simpson are working in partnership with Megabites in Pudsey (1 Valley Road, Pudsey, LS28 9ER) to make sure no child will go hungry this half term.
Every day this week between 11.30am and 1.30pm you can choose from ham, cheese or beef sandwiches, chip butties or a selection of hot sandwiches. Simply let Megabites know Linley & Simpson have sent you.
Karpaty Bakery, Armley
From tomorrow Karpaty Bakery on Town Street are offering a free loaf to 25 families who need it during half term. Before 12 noon.
Springfield Carpets, Farsley
Harvey's Quality Family Butchers, 12 Town St, Farsley, LS28 5LD
Jaspers Cafe, 31 Town St, Farsley, LS28 5HX
Springfield Carpets in Farsley are providing free sandwiches, crisps, a piece of fruit and a drink for children over half term. They can collect from Harvey's Butchers or Jaspers Cafe, or phone 0113 257 5104 to arrange collection.
The Great Wall, Armley
93 Town St, Armley, Leeds LS12 3HD
Offering meals between 5pm and 6pm Monday, Tuesday, Thursday and Friday.
Bramley dentists thanked
Bramley & Stanningley councillor Kevin Ritchie tweeted:
"Thank you to the dentists at Bramley Dental Care on Stanningley Road, for their generous donation of £200 to the Carebears foodbank. It will make a huge difference to the people of Bramley and support the fantastic work of the Bramley Carebears volunteers."
Donate at Bramley Community Centre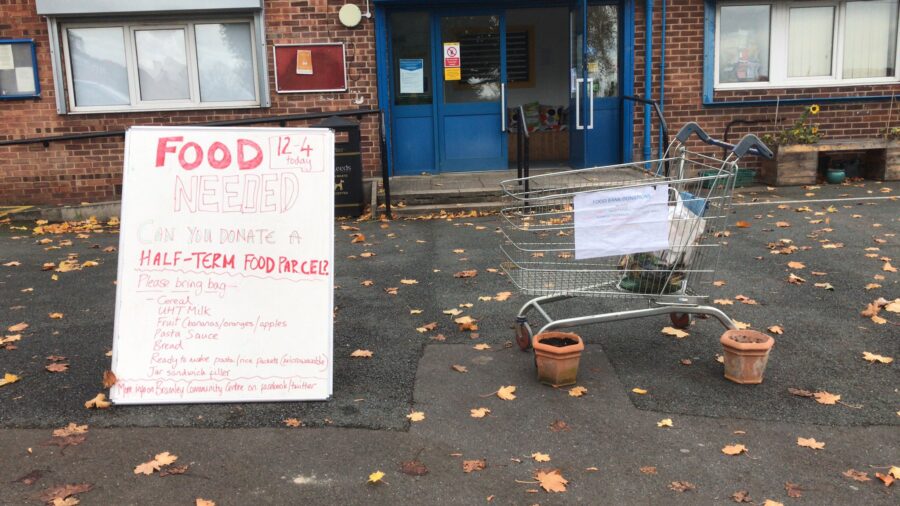 Bramley Community Centre is also welcoming donations of food for half-term food parcels.
Suggested items: Loaf of bread, UHT Milk, Cereal, Pasta sauce, Small jar sandwich paste, bananas or fruit (oranges, apples), packet pasta or rice meals or a tin of baked beans. The building will be open for donations Monday to Friday from 9am-4pm.
Bramley Care Bears run three free food distribution sessions in Bramley every week already, but during half term and at Christmas a collective of residents and groups will be trying to support more children/families than usual.