West Leeds history buff Mark Stevenson argues it's better to 'tell the truth and don't butter it up' when it comes to the city's statues. monuments and buildings – while pointing to some local connections to the slave trade…
I'm sure you have all seen over the past few years politicians of various parties going on about Brexit and how this and that will or will not happen because of it.
Now if you step into Doctor Who's Tardis and go back in time to around 1800 and change the word 'Brexit' for 'Slavery' you will get an idea of the debate it caused back then in the country.
There was a headline that read 'Labour council to "review" monuments after anti-racism protesters tear down statue' but where does the buck stop?
Is it just people who were directly connected to the slave trade or people and institutions that supported them?
If it is the latter then for the next few sentences the Tories are going to get it in the ear, mainly because they are the only political party around now that was around then – a great achievement in itself.
The Tory party at the time supported the Slave Trade – James Brudenell, 7th Earl of Cardigan was a Tory MP. He voted as he was told. So when he was told to vote in favour of the Slave Trade, he did. Many streets around West Leeds are named after him and his family including a pub and Cardigan Fields. 
Should we change these names because he supported institutions that supported the Slave Trade? I must also say that the Tory party also played a part in the ending of the Slave Trade later on.
What else should we hide away? The Flogging Parson of Farsley maybe.
Even in an era when punishing criminals harshly was the norm he stood out. His vindictiveness towards the Irish Catholics with sentences of 300 lashes was the norm. Samuel Marsden was the driving force behind the New South Wales "Female Register" which said all women except widows were either 'married' or 'concubine'.
Only marriages by the Church of England were recognised. Women who married in Roman Catholic or Jewish ceremonies were automatically classed as concubines.
Not to mention the Aborigines he stole land from. Farsley has a monument to him, with cottages and streets named after him. 
What about wars? Always a tricky one but sometimes we as a country do not cover ourselves in glory.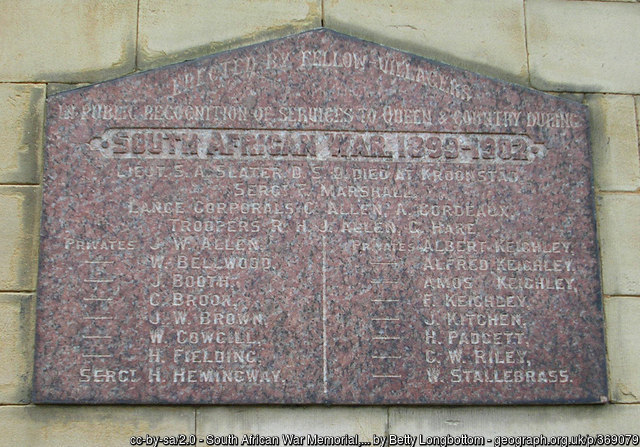 A few monuments around West Leeds remember and honour the dead mainly from the second Boer War 1899-1902 (fought in South Africa against Dutch Settlers). 
Thousands of Prisoners of War were shipped overseas, some never to return. Nearly 30,000 women and children were to die in British Concentration Camps.
All these things – good and bad – are part of our history and heritage and none should be hidden away.
Just tell the truth and don't butter it up. Let people make their own opinions. Better to know your history than hide away the parts you dislike.