Volunteering is an excellent way to make a connection with your local area and with your neighbours, and Spring is one of the best times to start, writes James Corah.
There are many different ways to volunteer with so many different community groups and organisations. Recently Revive in Kirkstall called out for help, river stewardship volunteers Team Kirkstall make a massive impact along the river and canal, and Kirkstall Festival are always on the look out for volunteers to help the field teams and sell programmes.
Blooming Burley readies for take off
Tonight (Wednesday 26 April, 2017) the first meeting for Burley in Bloom will take place. This meeting will be to set the objectives and boundaries of the group, and to sign up volunteers.
Gardens do not just spring up, they take time and through the efforts of the volunteers blossom. People of all ages and abilities are welcome to join, no gardening experience is necessary.
The meeting is at 7pm tonight in the New Burley Club.
Litter picking in Kirkstall
Kirkstall in Bloom held a litter pick on Saturday along the goit walk between Bridge Road and the Abbey grounds. New and familiar faces came along to pick up litter and have a chat.
One of the things that came up was the number of areas litter had found its way into, and whether frequent targeted litter picks would help.
With Mandy Long I organised a fortnightly litter pick, starting Monday 1 May 2017. We'll meet 7.30pm at the Cenotaph on Bridge Road, and provide bags and litter pickers (and bibs). The plan is to spend an hour every couple of weeks picking up litter. More details here.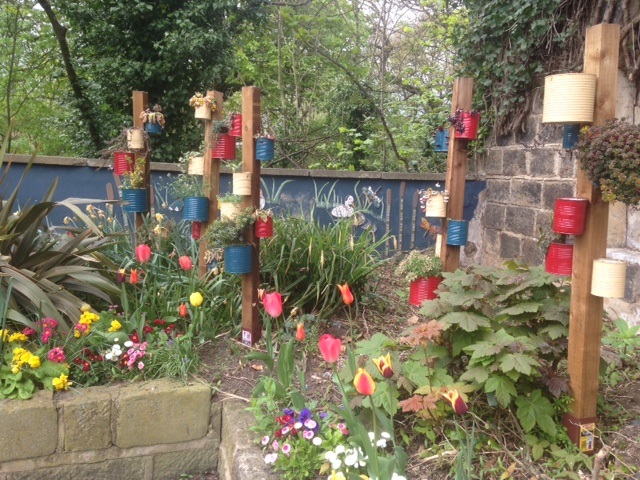 At the Drink and Be Grateful Fountain Garden we've noticed that as we have been working there (five years now, and counting), there has been a corresponding drop in litter. This effect can and will be spread by frequent events like our litter picks.
The crossroads on the A65 in Kirkstall is a good place to start. Vehicle owners will see our activities and think twice and discarding their fast food packets.
Pedestrians using the Kirkstall Leisure Centre or Bridge Retail Park will see the care we take of our neighbourhood and how they can help us. Students at Leeds Beckett University making their way from campus to residential halls will see how they can make a difference by volunteering.
Everyone benefits when effort is made to improve an area. Unfortunately we can't stop every litter dropper, though we can persuade others to cherish and look after their area.
After the first session we'll be meeting every fortnight, starting at the Cenotaph. It would be great if you could come along, we don't expect you to be there for every session though between us we can make a big difference in Kirkstall and our area.