Inspirational women who have blazed a trail through history are being celebrated in an empowering new exhibition in Kirkstall.
A Woman's Place? opens at Kirkstall's Abbey House Museum this weekend and marks the centenary of the first British women getting the right to vote as well as celebrating the quiet heroism of ordinary women.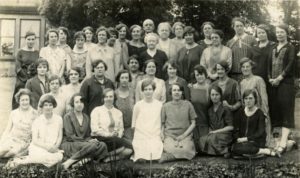 Among the influential women whose stories the exhibition shines a light on is that of Leeds Suffragette Leonora Cohen, who became a famously passionate and militant campaigner in the early 20th century.
A true firebrand in the struggle for women's rights, in 1913 she was arrested and jailed for hurling an iron bar through a showcase at the Tower of London in front of a crowd of startled schoolchildren.
The fascinating stories of four unsung Leeds heroines are also honoured as part of the exhibition with the help of imaginative new ceramics, specially-created by Yorkshire-based artist Katch Skinner.
The 1940s all-female jazz band leader Ivy Benson, born and bred in Holbeck, Morley cycling champion Beryl Burton, Leeds Suffragette Mary Gawthorpe, and Edith Pechey, one of the first female doctors in the United Kingdom, have all been immortalised in the ceramics.
Among the more modern exhibits on display are a boxing glove worn by the city's Olympic gold medal winning boxer Nicola Adams (pictured top) and a Lego Women of Nasa set, which depicts prominent women astronomers, scientists and astronauts.
Kitty Ross, Leeds Museums and Galleries' curator of social history, who has been putting the exhibition together, said:
"Each of these women has played their own unique and important role in challenging and changing perceptions of what women can achieve, in turn helping to inspire subsequent generations.

"What also unites them is a refusal to accept gender-based boundaries or constraints and a determination to reach their goals in the face adversity, societal pressure and even arrest.

"We hope this exhibition and their stories will encourage women and girls who visit to believe in themselves and to never let their own ambitions and achievements be limited by their gender."
A Woman's Place? is open now and runs throughout 2018 alongside a programme of talks, study days and school workshops. More details here.