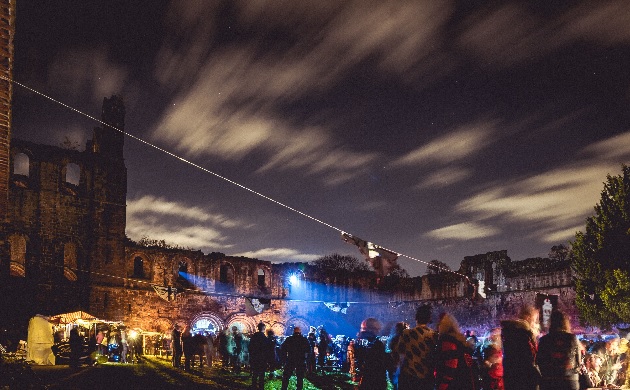 Top acts and entertainment will combine with speciality food trucks and beverage bars with a theme of 'fiesta fun' at Kirkstall Abbey next month.
Attendees can enjoy food influences from around the world, from quality local providers such as Columbian-inspired Kanassa Kitchen and Spud Gun Loaded Fries – who are passionate about packing a punch with their flavours. The food will be accomapnie4d by local craft ales, a rum shack, specialist gins, tequila and prosecco bars.
There is a programme of live music, dance and performances from acts such as July Julay, a globally renowned Bachata and salsa singer hailing from the Dominican Republic, and the energetic and electrifying Leeds Samba.
Global Grooves will bring their playful puppeteers and accompanying performers and the Sneaky Luche Libre will add a fun interactive element.
And during the daytime event, they're catering specifically for kids with a mini-fiesta zone with entertainment and crafts for little ones.
Leeds Indie Food director Simon Fogal said:
"We wanted to bring something different to Leeds this summer, prompting people to take a real time out, and experience a holiday atmosphere, where you forget the outside pressures, and get lost in the carnival spirit."
Feast & Fiesta will run at Kirkstall Abbey on Saturday 11 May and will feature two events:
Day: with the inclusion of kids' area: 11.30am-4.30pm
Night: 6pm-10.30pm
Tickets: £5 kids, £15 adults, with a 20% for group bookings of 4 people or more.
Full details: on the Sneak Experience website.
_____________
While you're here…
Producing your daily dose of West Leeds Dispatch comes at a cost!
There's the hosting of the website you're reading now, running our popular e-mail newsletter, membership of independent press regulator Impress, attending summer events, paying for equipment etc etc.
We need at least £200 a month just to break even – that's money currently coming out of the pockets of dedicated volunteers who are passionate about what's happening in our communities, connecting you with local groups and organisations as well as holding decision-makers to account and championing local issues.
And all that's BEFORE we even think about paying something for people's time – for instance, our editor puts in more than 24 hours a week in his 'spare' time to ensure The Dispatch publishes daily.
To put it bluntly, after nearly four years of daily publishing, we are not sustainable!
And we need YOUR help to continue …
For the cost of less than a couple of cups of coffee you can help support local community news and continue to give our communities a voice by taking out a subscription for just £4 per month (that's just a pound a week).
As a thanks you'll get your name on a roll of honour on our website. More importantly you will be enabling us to keep bringing you the news that matters about your neighbourhood.
Achieving a bedrock of supporters will give us a firm financial footing and help us plan for the future.
Supporting us couldn't be easier…
Just follow this link.
or set up a standing order with your bank:
Contact us on Paywestleedsdispatch@gmail.com if you'd like to do this.
Over to you …