By Liam O'Sullivan. Photos: Simon Cullingworth
Farsley Celtic couldn't follow up last week's impressive win on the road against Kidderminster Harriers as they suffered a hefty home defeat to fellow strugglers Southport.
It was a tale of two halves, with Farsley unable to convert their many chances in the first half meaning they would go into the break at a stalemate. Southport then turned on the style in the second half and scored three, giving the visitors a comfortable win in the end.
It would be another story where Farsley would rue their missed opportunities, as they were punished emphatically in the second half.
The game started with the Celts on top. Syers picked out Jimmy Spencer well with a cushioned over-the-top ball putting him in behind the Port's defence. Spencer then instinctively tried to lob Cameron Mason who was coming off his line. The keeper got hands onto it, but it fell kindly to Ubaezuonu, however his close range effort was terrifically stopped once more by the foot of Cameron Mason.
Not long after, Max Dearnley played a fantastic ball to try and find Spencer, but Mason met it just before the forward on the edge of the box. However, this once more this fell to a Farsley shirt in Luke Parkin, and he tried to capitalise on the keeperless net with a long-range first time effort. His ambitious attempt however narrowly missed the target.
The chances would continue to come Farsley's way, this time coming from a trademark Syers long throw. This met the head of Tom Allan who scooped his header towards goal, only to be denied by the crossbar. The attack still was alive though, as the ball fell right in the six-yard box but was headed off the line by Bainbridge, and eventually the chance fizzled out once Mason punched it away.
The Celts thought they'd taken the lead 18 minutes in when Dave Syers converted from close range. A free kick from the halfway line met the head of Mulhern, who cleverly teed up the skipper, and he struck it low and hard into the bottom left corner, giving the keeper no chance. However, Farsley's jubilation was short lived, as linesman Waqar Ahmad had his flag up, deeming Mulhern to have been in an offside position.
Farsley's first half domination continued, and they were once more denied by a goal line clearance when Spencer did brilliantly to keep the ball on the pitch following a long ball from Assenso. Spencer then took it away from substitute keeper Tony McMillan and played it back to Mulhern. Disappointingly, Mulhern's first time effort was weak and was easily cleared off the line by a sky-blue shirt, in what would be the last major chance of the first half.
Southport came out a new team in the second half, having a long-range thunderbolt from Bainbridge stopped well by Dearnley within the first minute.
Only one minute later though, the visitors took the lead. A long throw was put into the heart of the penalty area and was poorly dealt with by Farsley. This led to Adam Anson having an opportunity to strike a volley in the box, and he did this brilliantly, arrowing it into the top left corner, making it 1-0 to Southport.
Following the goal, there was an uneventful period of the game, with no major chances coming for either team. The game became quite heated, with a constant battle between Assenso and Marcus Carver causing some confrontation between the sides.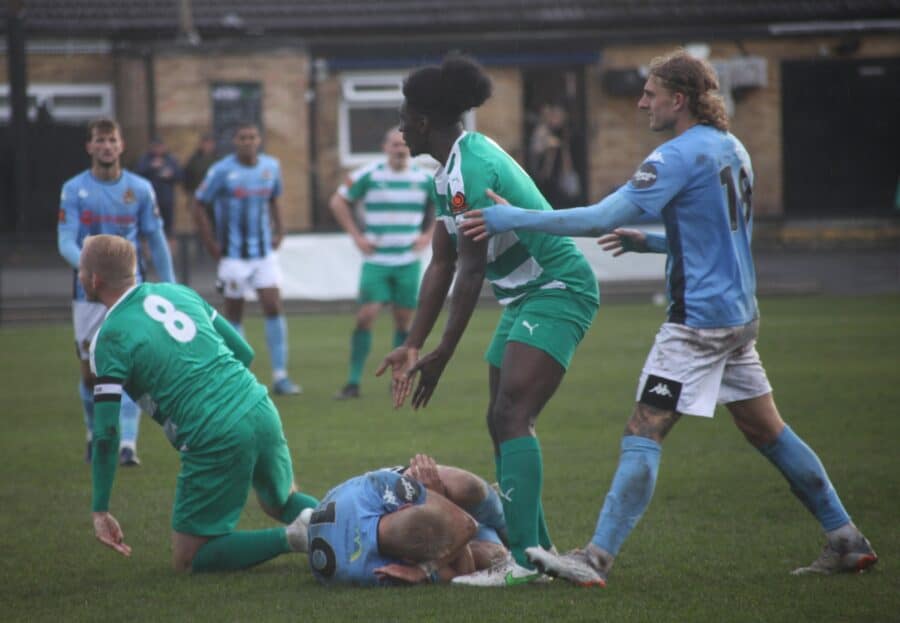 In the 68th minute, Southport doubled their lead. A low corner from Josh Hmami found Tyler Walton with space in the box. The former Celts' winger hit it first time towards goal, and in an effort to try and block the shot, skipper Dave Syers instead turned it into his own net, giving the visitors a second.
With less than 15 minutes left, the Yellows put the game to bed. A through ball that seemed would come to nothing was instead poorly dealt with by Tom Allan, who tried to shield off the incoming Josh Hmami.
He instead let him get in front of him, and Hmami then took it around Dearnley to put it into an empty net. This calamity at the back summed up Farsley's second half display and gave them no way back.
Farsley haven't won at home since a 2-0 win against Southport back in April. They travel to Gloucester next Saturday, where they will look to get back-to-back wins on the road in what is proving to be a tough spell for the side.
Line ups
Farsley Celtic: Dearnley, Scales, Butroid, Johnson, Allan, Assenso, Ubaezuonu (Pointon 84), Syers ©, Spencer, Mulhern (Osadebe 76), Parkin (Dube 76). Unused subs: Mason.
Southport: Mason (McMillan 20), Oliver, Anson ©, Evans, Munro, Carver (Carberry 85), Walton, Quansah, Hmami (J Doyle 83), Watson, Bainbridge. Unused subs: C Doyle, Archer.
Reaction
Manager Russ Wilcox lamented his side profligacy in front of goal and felt the game was lost by a lack of quality in both boxes. He said it was a 'game of two halves':
Sponsored content