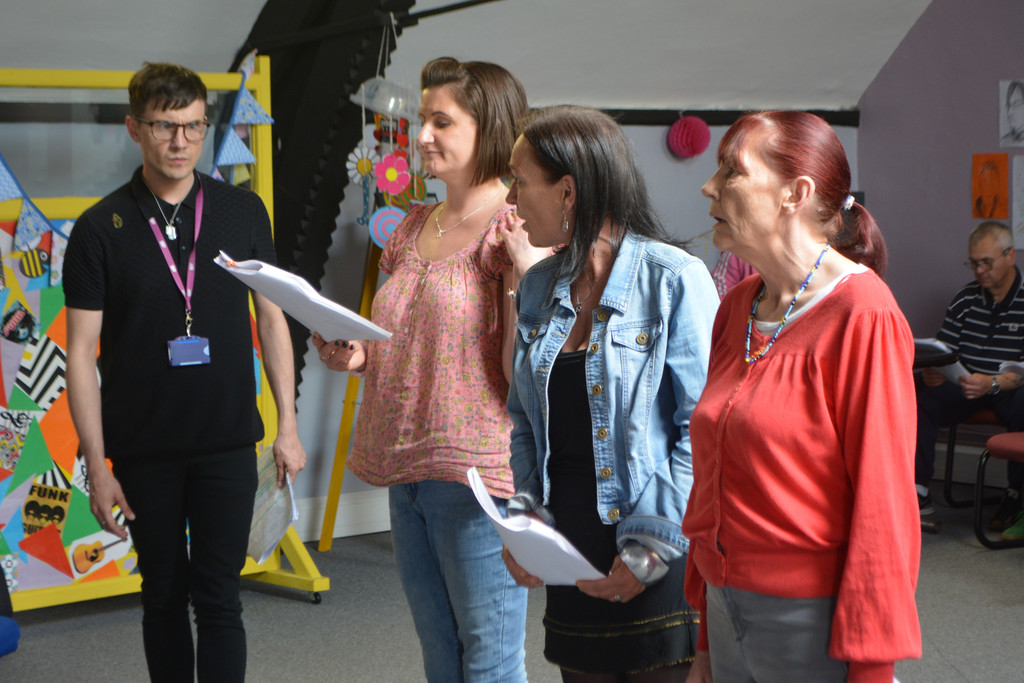 People recovering from drug and alcohol addiction at a recovery hub in Burley will stage a one-off production of Macbeth, directed by a RADA-trained former TV actress.
The Hurly-Burley Players will be staging Macbeth at the Guiseley Theatre on Wednesday, May 8th.
Everyone appearing in the performance is in recovery from problematic alcohol or drug use and attends the 5 Ways recovery hub off Burley Road for support and advice or as a volunteer.
Director Christabel Grasby has performed on national TV, radio and stage, including the ITV Drama Peak Practice. She said:
"I'm looking to create a way that people can re-focus themselves and find a new direction or even a new self through drama. I wanted to work with 5 Ways as I wanted a new challenge and I've been looking for a new way of offering therapy through drama.

"As well as working towards a production of Macbeth there have been lots of opportunities for the students to build self-confidence and self-esteem on the course. Now they will experience the excitement and all the positive feelings that come with performance, when their friends and families can watch them re-born on the stage."
Gabrielle, who plays Lady Macbeth, said:
"Coming to 5 WAYS and being given the opportunity to perform in Macbeth is helping me to gain some of the confidence back that I lost, and also increase it.

"Every time I come to rehearsal I'm encouraged to get out of my comfort zone, to engage with others. Taking on the role of Lady Macbeth is giving me the opportunity to come out of a shell that addiction imposed on me."
The 'company' have chosen the name 'The Hurly-Burley Players' as 5 Ways is based off Burley Road in Leeds.
Tickets are available from 5 Ways. £3 for waged and £1.50 for unwaged. You can call 5 Ways, which is part Armley-based of Forward Leeds recovery service, on 0113 887 2749 or e-mail 5ways@forwardleeds.co.uk.
_____________
While you're here…
Producing your daily dose of West Leeds Dispatch comes at a cost!
There's the hosting of the website you're reading now, running our popular e-mail newsletter, membership of independent press regulator Impress, attending summer events, paying for equipment etc etc.
We need at least £200 a month just to break even – that's money currently coming out of the pockets of dedicated volunteers who are passionate about what's happening in our communities, connecting you with local groups and organisations as well as holding decision-makers to account and championing local issues.
And all that's BEFORE we even think about paying something for people's time – for instance, our editor puts in more than 24 hours a week in his 'spare' time to ensure The Dispatch publishes daily.
To put it bluntly, after nearly four years of daily publishing, we are not sustainable!
And we need YOUR help to continue …
For the cost of less than a couple of cups of coffee you can help support local community news and continue to give our communities a voice by taking out a subscription for just £4 per month (that's just a pound a week).
As a thanks you'll get your name on a roll of honour on our website. More importantly you will be enabling us to keep bringing you the news that matters about your neighbourhood.
Achieving a bedrock of supporters will give us a firm financial footing and help us plan for the future.
Supporting us couldn't be easier…
Just follow this link.
or set up a standing order with your bank:
Contact us on Paywestleedsdispatch@gmail.com if you'd like to do this.
Over to you …