More than 300 people have signed a petition to stop Bradford Council from disposing of green space land to Albion Sports Football Club.
The Sunnybank/Woodhall Recreation Fields Community Action Group fear the proposals could lead to major highways issues, severe parking problems, noise and light pollution and the loss of free access to open green spaces.
Albion Sports, which currently plays at Farsley Celtic's Throstle Nest ground, are looking to take over the site, with locals fearing they could build a new football pitch with turnstiles, a public address system, floodlights, a club house and other buildings.
Local residents are opposing Bradford Council's community asset transfer of the land to Albion Sports, questioning the club's connections to the area.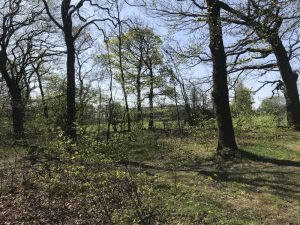 A group spokesperson said:
"We would like to ensure our Greenbelt and wood remains as a playing field and open space for local families, children, walkers, cricketers & other community users. Our woods and wildlife (roe deer, badgers, foxes, hedgehogs, birds etc) need this land for survival, too.

"From recent Freedom of Information requests of the direct communications between Bradford Council and Albion Sports it is clear this is a massive building project proposal on Leeds Council communal greenbelt land. It is not a mere transfer of stewardship of land at all, but a full scale, major sports club development. "
Their campaign has the backing of Stuart Andrew MP, as well as Calverley and Farsley councillors Peter Carlill (Lab) and Andrew and Amanda Carter (Cons).
Albion Sports has launched a counter petition, which has attracted just over 300 signatures. In the petition, they have refuted some of the campaigners' claims.
The petition, lodged by Gurbinder Johal a week ago, says locals' fears that they will build a football stadium with turnstile and a public address system are 'completely unfounded'. Mr Johal said:
"It has also been argued by none other than local councillors that the club has no local connections with this part of the world. But the club has a strong constituent link; Albion Sports CIC has at present eight committee members, five of which live within the constituency.

"The Sunnybank Lane Recreation Grounds sits within the postcode district of BD3 and the club's Junior teams have been playing there for the past 18 years within the constituency we allegedly have no connection to. Over 70% of the club's junior players (and in turn their parents) come from the postcode districts of BD3, BD4 and LS28.

"Thus, we chose the grounds based on the fact that it is within walking distance to most of our Junior players' houses. Finally, the clubs first team play at Farsley Celtic FC and have done so for the past six years, again in the constituency.

"The CIC within our name stands for Community Interest Club, which reflects the ethos of supporting the rights of everyone. The club would very much welcome a meeting with any person or persons with a vested interest in the grounds and/or the needs of sport to the local area. There is even room for new committee members if there are enthused members of the community hoping to get involved.

"The club will be taking over the grounds for the Juniors to play on for the foreseeable future; there is no current intention for the First Team Seniors to play there.

"Any plans the club has to develop the grounds in support of community cohesion will be communicated locally, and as a CIC we will work to engage with the local community. We are happy to update any interested parties on the facts as we move along, but we urge all members of our community to come to us for the facts on our project and not trust misinformed disgruntled opponents."
Leeds City Council says it is asking neighbouring Bradford to 'pause' the proposed Community Asset Transfer on a site within the Leeds boundary so there can be full consultation with affected residents and ward councillors.
The site is located off Sunnybank Lane, next to the Woodhall Playing Fields bought by Leeds City Council from Bradford University just over a year ago.
_____________
While you're here…
Producing your daily dose of West Leeds Dispatch comes at a cost!
There's the hosting of the website you're reading now, running our popular e-mail newsletter, membership of independent press regulator Impress, attending summer events, paying for equipment etc etc.
We need at least £200 a month just to break even – that's money currently coming out of the pockets of dedicated volunteers who are passionate about what's happening in our communities, connecting you with local groups and organisations as well as holding decision-makers to account and championing local issues.
And all that's BEFORE we even think about paying something for people's time – for instance, our editor puts in more than 24 hours a week in his 'spare' time to ensure The Dispatch publishes daily.
To put it bluntly, after nearly four years of daily publishing, we are not sustainable!
And we need YOUR help to continue …
For the cost of less than a couple of cups of coffee you can help support local community news and continue to give our communities a voice by taking out a subscription for just £4 per month (that's just a pound a week).
As a thanks you'll get your name on a roll of honour on our website. More importantly you will be enabling us to keep bringing you the news that matters about your neighbourhood.
Achieving a bedrock of supporters will give us a firm financial footing and help us plan for the future.
Supporting us couldn't be easier…
Just follow this link.
or set up a standing order with your bank:
Contact us on Paywestleedsdispatch@gmail.com if you'd like to do this.
Over to you …