The man behind Farsley Celtic Football Club's renaissance is stepping aside as chairman, it's been announced.
Long-standing John Palmer and his family are stepping back from the Throsetle Nest club, with Paul Barthorpe joining the Farsley Celtic board as chairman.
Mr Palmer began his long association with the Celts back in 1972 when he was asked to get involved at Throstle Nest by a friend.
Alongside his wife Margaret and his family, he has seen the club through many ups and downs during his 47 years with the Celts.
For much of that period Mr Palmer had been the driving force as chairman, overseeing and being instrumental in the development of the Throstle Nest ground, which saw the building of the clubhouse extension and the construction of both stands at the ground.
On the pitch he saw the Celts rise the league pyramid to the heights of the Football Conference, before problems arose and the club went out of business in 2010.
But it was Mr Palmer and his family who rescued the club from administration, reforming initially as Farsley AFC. As chairman he saw Farsley go from strength to strength over the last nine years, with the club needing just a point from Saturday's home game against Marine to gain promotion to the National League North.
Mr Palmer is now in his early 80s, but the future looks unquestionably bright for this family-friendly outfit again.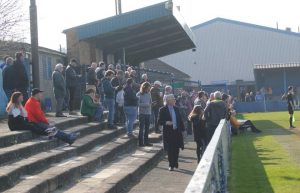 On the pain and heartache of a decade ago – and the labour of love to keep Farsley going – Palmer told The Yorkshire Post in December:
"It is always difficult, but most commitments are – whether it is marriage, family or business. We fought and fought.

"It was heartbreaking. We tried to keep it going without a break and my wife and myself paid the wages for a long time, just to keep it going and the lads together. There was a great spirit."
A statement issued by The Celts this week said new chairman Paul Barthorpe has become more involved at the club over the last few weeks, and has already met many of the supporters, becoming a familiar face.
Mr Barthorpe paid tribute to the work of the Palmer family and pledged to take the club to new levels. He said:
"This process was started almost 12 months ago now and I am very happy to finally get it over the line.

"Having worked in the industry for a number of years it has given me unique insight into the footballing world all of which will enable me and my team to take Farsley Celtic to not only new levels on the pitch but off it too. We will put this club back where it belongs!

"I would also like to take this opportunity to thank and acknowledge the years of dedication, effort and love that John and Margaret Palmer have put into this club, saving it from the brink of extinction and developing it into what it is today.

"I am very happy that they have agreed to stay part of the family at Farsley Celtic and look forward to their continued support and friendship."
Existing board members Joshua Greaves and Robert Winterbottom will remain with the club. Mr Barthorpe added:
"I am extremely happy that Joshua and Rob have decided to join me on the board at Farsley Celtic. Their knowledge, experience, dedication and love for the club is second to none.

"Together we will form the youngest board in the league, and as such we will look to be the forerunners in club innovation and development. Between us we will look to bring new life and new energy into not only Farsley Celtic but the local area too.

"Josh in his role as Chief Executive and Rob as our Operations Director will look to deliver not only new and creative ideas across all facets of the club, but will also work closely with the local community and our partners to deliver wider impacting benefits, as we as a club look to give back to all those who have supported us over the years."
A club statement added:
"All at the club would like to welcome Paul to the board and would like to thank the Palmer family for their years of dedication to the football club. They will stay involved at the club and further announcements and updates will be available over the coming weeks.

"We would also like to thank Paul for covering the cost of all tickets to allow free entry for all supporters this weekend when we entertain Marine on Saturday [at 3pm]. "
Farsley Celtic's management team of Adam Lakeland and Mark Bett have this week both signed long-term contracts with the club.
Saturday's game against Marine kicks off at 3pm. Entrance is free to all supporters as the club seeks promotion.
_____________
While you're here…
Producing your daily dose of West Leeds Dispatch comes at a cost!
There's the hosting of the website you're reading now, running our popular e-mail newsletter, membership of independent press regulator Impress, attending summer events, paying for equipment etc etc.
We need at least £200 a month just to break even – that's money currently coming out of the pockets of dedicated volunteers who are passionate about what's happening in our communities, connecting you with local groups and organisations as well as holding decision-makers to account and championing local issues.
And all that's BEFORE we even think about paying something for people's time – for instance, our editor puts in more than 24 hours a week in his 'spare' time to ensure The Dispatch publishes daily.
To put it bluntly, after nearly four years of daily publishing, we are not sustainable!
And we need YOUR help to continue …
For the cost of less than a couple of cups of coffee you can help support local community news and continue to give our communities a voice by taking out a subscription for just £4 per month (that's just a pound a week).
As a thanks you'll get your name on a roll of honour on our website. More importantly you will be enabling us to keep bringing you the news that matters about your neighbourhood.
Achieving a bedrock of supporters will give us a firm financial footing and help us plan for the future.
Supporting us couldn't be easier…
Just follow this link.
or set up a standing order with your bank:
Contact us on Paywestleedsdispatch@gmail.com if you'd like to do this.
Over to you …