Words: Jo Fiddes
Despite living in Bramley for over 30 years, I was certain I could still learn a thing or two about my neighbourhood on this local history walk – and I was right.
The event was organised by Bramley History Society – local historians Roger Cliff and Anthony Silson led parallel walks around the area.
Starting at Tescos we began by looking at photos of Town Street as it used to be – and what a change there has been!
No doubt some of the old houses and shops were in a parlous state and deserved demolition, but the wholescale removal of these buildings seems to the modern eye an act of wanton vandalism. It is such a shame that the extensive redevelopment in the 60s and 70s was undertaken so unsympathetically.
Luckily, there are still some interesting sights to see if you look slightly further afield. Crossing the road we saw the old stocks and pillory, marked with a blue plaque. Onto the Old Unicorn, built of local gritstone and a Bramley landmark long before its refurbishment by Wetherspoon in 2014.
Next was the graveyard of St Peter's. Although many gravestones have been moved from this large grassed area, there are still some fabulous carved Victorian monuments.
The church itself has undergone some remodelling, including the spire – which is now made of fibre glass!
We had time for a quick stop in Bramley Library (one of the 660 libraries built with money donated by Scottish-American businessman and philanthropist Andrew Carnegie).
Bramley Hub, as it is now known, has had some upgrades, but thankfully not at the expense of its original features, especially in the entrance.
A highlight of the walk for me was the 200-year-old Bramley Baptist Church graveyard. I've passed it often but never ventured in.
Until relatively recently the eight acre site was overgrown with knotweed, but thanks to a successful grant application and lots of hard work the graveyard has been restored. It contains many war graves, which are marked with a white ribbon and regularly tended by the Bramley War Memorial Group.
It also includes a memorial for Major John Geoffrey Appleyard – the inspiration for author Ian Fleming's fictional spy James Bond.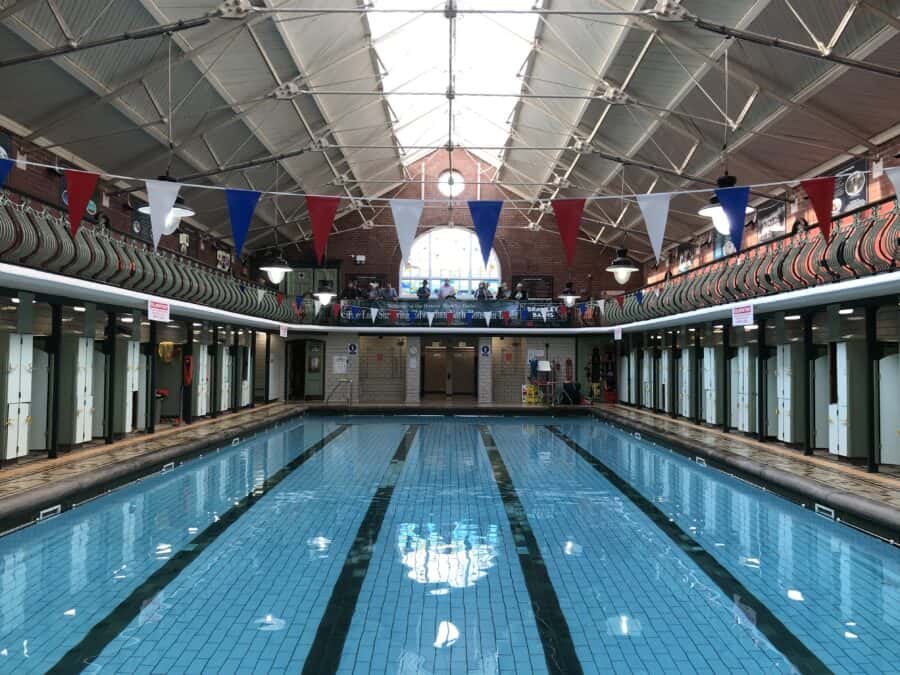 Our luck was in when we arrived at the Edwardian Bramley Baths. Initially we were only expecting to see the impressive entrance way – but a school swimming session had been cancelled which meant we were able to go inside and see the Grade II Listed pool itself.
A truly unique building – surely the jewel in Bramley's crown.
Our return journey took us through Haleys Yard – its former industrial use clearly evident in the brickwork.
Our final stop was at the War Memorial, unveiled in 2014 and paid for through local fundraising, local businesses and council grants.
Roger pointed out the name of Robert H Jones, who died in France aged 34 on 18 November 1916. He was the grandfather of singing legend David Bowie. His name is one of over 500 who are commemorated and referenced in the poignant inscription – "In everlasting memory of brave Bramley people who gave their lives in pursuit of peace – we shall not forget."
Finally back to the shopping centre, where we were faced once again of the stark reality of the village that disappeared.
A really informative walk – but tinged with sadness as to what might have been if developers 50 years ago hadn't been quite so keen! 
Clarification: This article was amended to clarify that G J Appleyard is not buried in the Baptist churchyard.