By John Baron
Councillors have agreed to spend over £10,000 on new park play equipment honouring a former West Leeds ice cream seller who passed away earlier this year – despite one councillor labelling it 'ridiculously expensive'.
As reported by WLD in March, Bramley mum Alison Arnison started an online crowdfunding appeal to build a new piece of play equipment in the shape of Mr Rossi's iconic ice cream van in Bramley Park. The crowdfunder, which is now closed, raised more than £260.
Councillors sitting on the inner west community committee last night agreed to spend £10,506.72 of their wellbeing fund budget to fund the play item.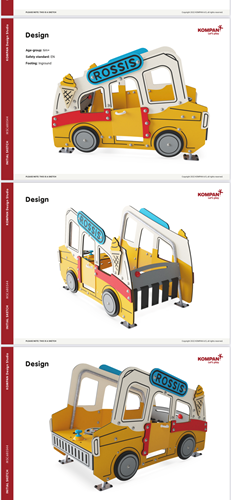 Councillor Caroline Gruen (Lab, Bramley & Stanningley) told the meeting, which was held at the Civic Hall, that she supported the funding.
She said: "I think it is ridiculously expensive, but for residents in my ward I sense they will be very appreciative of the equipment."
Cllr Kevin Ritchie (Lab, Bramley & Stanningley) said a community crowdfunder had raised a small amount of money to support the costs and added: "Times are hard for people and there is a lot of support out there for it."
Mr Rossi – his full name was Vittorio Di Mascio – was well-loved in the West Leeds area, and for more than 40 years drove his trusty ice cream vans around the Bramley and Pudsey areas.
His passing led to hundreds of tributes on social media at the time.
A variety of other projects also received funding asa the committee.
Bramley Open Arts Group
£4,600 to establish an art group for Bramley & Stanningley, open and accessible to all regardless of ability and focussed on a series of weekly themed classes individually tailored to the needs of each learner.
Operation Mineral
£1,358 towards a police scheme which uses interactive, visual media to showcase the real consequences and danger of carrying weapons, and is targeted at 12 to 18 year olds.
New Wortley Community Association
£2,000 towards the costs of inflatables, food and refreshments, publicity and materials for the New Wortley Festival, celebrating 40 years of New Wortley Community Association.
Inner West anti-social behaviour and speeding operations
£6,035 to address the increased issues of speeding, dangerous driving, anti-social driving and antisocial behaviour, including that by young people.
Speed indicator device
£3,500 for installation of one device in Kirkstall ward.
Community Youth project
£5,265 to create a community youth project in Kirkstall ward, working in partnership with Leeds Youth Service. The project will run weekly and will aim to engage young people aged 11-17years old in physical acitivites to improve their physical wellbeing.
Bramley Christmas Tree
£609 to supply, install and remove 15ft tree on Bramley Town Street for the festive light display.
Armley Sculpture Trail
£1,500 towards Assembly House's Armley Sculpture Trail, which will bring community groups together with local artists to co-create a series of sculptures, which will be displayed in Armley's green spaces for local residents and visitors to enjoy.
Armley Park events
£2,566 to the Friends of Armley and Gotts Park for two annual events – the dog show and lantern parade.
SOS+ 15 Week School Programme
£5,000 to fund a 15-week programme for 15 young people aged between 11 and 16. The programme will be delivered at Leeds West Academy by the team at St Giles and supported by practitioners from Bramley Cluster.
CCTV Cameras
£6,000 towards the ongoing cost of the CCTV cameras in Armley, Bramley & Stanningley and Kirkstall wards. Each ward has two cameras.
Festive lights
£10,612 to cover the cost of festive motifs in the the three wards, plus Leeds Lights staff to attend the switch on events. The ward breakdown is: Armley £2,660, B&S £2,396, Kirkstall £5,556.
The inner west community committee is made up of nine councillors from Armley, Bramley & Stanningley and Kirkstall wards, along with community representatives.
The meeting agenda can be found here.