A Bramley mum has launched a crowdfunding campaign to build some play equipment in memory of a legendary ice cream man who passed away earlier this year.
Mr Rossi – full name Vittorio Di Mascio – was well-loved in the West Leeds area, and for more than 40 years drove his trusty ice cream vans around the Bramley and Pudsey areas. His passing led to hundreds of tributes on social media at the time.
Now mum Alison Arnison is hoping to raise £5,000 to build a new piece of play equipment in the shape of Mr Rossi's iconic van in Bramley Park.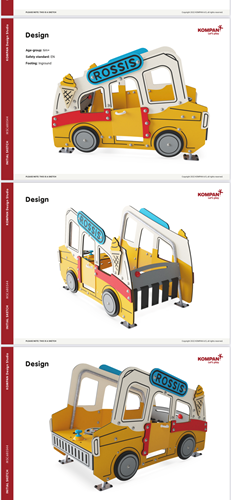 She's asking local parents and businesses to donate to the appeal and said:
"He was a huge part of Bramley and will be sadly missed. Lots of people will miss the sound of his ice cream van this year. So it would be lovely to create a lasting memory of him.

"Bramley Park hasn't had any new play equipment for quite some time. A fantastic piece of role play equipment in the form of Rossi's van has been created. It's a fantastic piece of equipment that the kids will love playing on. It's a costly project, the council have agreed to part-fund it, but I'd like to meet them half way with it.

"Let's pull together and make this a real community project. The kids really need some new equipment and I'm sure you'll all agree it'll be lovely to have a lasting memory of a top ice cream man who touched so many of our hearts."
Councillor Kevin Ritchie (Lab,) told WLD that the three Bramley & Stanningley councillors had agreed to pick up any shortfall in funding through either wellbeing funding from the inner west community committee or community infrastructure levy (CIL) funding.
More information – and how to donate – can be found here.