Words: John Baron
Former Leeds West MP John Battle is to be knighted in the New Year's Honours List 2022.
Sir John will receive the title in recognition of his political and public service, which stretches back to his election as a councillor for Hunslet ward in 1980.
MBEs also go to Bramley-based former Leeds Rhinos star Jamie Jones Buchanan, Calverley Olympian Georgia Taylor-Brown, former Intake High pupil and Spice Girl Mel B and an OBE for former Armley councillor Alison Lowe.
Sir John was Leeds West MP for 23 years between 1987 and 2010. Since retirement has gone on to be an active part of a number community projects in West Leeds.
He was one of the leading lights behind the successful campaign to save Bramley Baths from closure. In September he signed off as chair after successfully leading the independent organisation since it took over running the historic facilities from Leeds City Council on 1 January 2013.
He had previously chaired the two-year campaign to save the Baths and convince the council to let the community run it.
Mr Battle said in September:
"I've had the privilege of being involved with the Baths for – it must be almost 11 years now. When we took over I was reluctant, after 23 years as an MP, to take on a full-time voluntary job leading the Baths, but I have learnt so much from it, made all the easier by brilliant teamwork from volunteer trustees and professional staff.

"I've been in government around the Cabinet table, and worked with other local groups, but the model that's worked the best has been Bramley Baths, in terms of everyone working together as a team. Its strength is its foundation, and it's been brilliant.

"if you take away the last two letters of 'trustee' you're left with the word 'trust', and that's always inspired me over the years. The trust I had in my fellow trustees and in the staff who work here."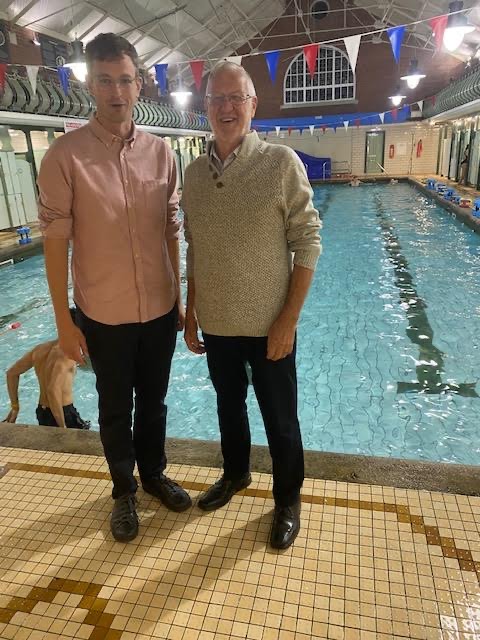 Nicolas Quin, who took over from Sir John as Bramley Baths chair, paid tribute to his work. He said:
"Every swimming lesson taught at Bramley Baths owes something to John's selflessness, his endless enthusiasm, his ideals and his vision for the community.

"John's years of service to West Leeds as an MP, activist, social entrepreneur and leader are deserving of this honour and we couldn't be more pleased for him.

"John led the team which took Bramley Baths into community ownership, and had a vision of making it the friendliest Baths in Britain, powered by local people. Ten years on, he has protected our magnificent building, helped thousands of people learn how to swim, and created a community enterprise, run by volunteers, which is an example across the country."
Current Leeds West MP Rachel Reeves also congratulated Sir John on his knighthood. She said:
"Since standing down as an MP just over 11 years ago, John has done more than ever to support our community, including turning historic pool Bramley Baths into a much-loved community enterprise, running the Bramley Credit Union to support vulnerable people at risk of debt, and launching the New Wortley Walking Club to tackle men's mental health.

"He is an inspiration to me and to many in Leeds West and beyond. John has always been a fantastic champion for the people of Leeds West and this honour truly is well deserved. I am very proud to call him my friend."
Sir John is still heavily involved in a number of community initiatives across the city, including New Wortley Community Association. He's also the former chair of Bramley and West Leeds Credit Union and led campaigns to and the St Vincent's Homeless Shelter.
The New Year Honours website also notes the leading role he took in the Armley Asbestos Campaign involving the JW Roberts Ltd factory in the 1980s and 1990s:
"He was a campaigning MP, representing his constituents assiduously and fighting for change, most notably in relation to mesothelioma from asbestos poisoning."
Sir John has been the Pro Chancellor of Leeds Trinity University since 2017, serves on the Board of Citizens UK and co-chairs Leeds Citizens. He served as Minister of State in the Department for Trade and Industry from 1997-99 and as Minister of State in the Foreign Office from 1999-2001.
Sir John, 70, is married to Lady Mary and, in 2009, was invested as a Knight Commander with Star of the Order of St Gregory the Great (KCSG) by Pope Benedict XVI in recognition of his lifelong commitment and loyalty to the local church and for his work as an MP.
Members of the Order of the British Empire (MBE)
Melanie Brown
Melanie Janine Brown – better known as Mel B or Scary Spice from the Spice Girls – was awarded an MBE for her campaigning on behalf of women suffering abuse.
She recently starred in a short film exploring domestic violence through dance, inspired by the stories she heard while a Women's Aid patron.
Ms Brown told The Sun: "I went through a horrendous abusive marriage which nearly killed me. I got out of it and ever since I've tried to help other women — and men — who have been through or are going through abuse in whatever shape or form."
The 46-year-old studied performing arts at the former Intake High School in Rodley. She grew up in Harehills, Burley and Kirkstall, and before finding stardom won the Miss Leeds Weekly News title in the early 1990s.
Jamie Jones-Buchanan
Former Leeds Rhinos star Jamie Jones-Buchanan has been appointed an MBE for his work in deprived areas of Leeds and for his services to Rugby League.
As a Trustee of the Leeds Rhinos Foundation, Mr Jones-Buchanan, 40, has volunteered thousands of hours helping deliver Rugby League opportunities to children and young people across Leeds, many of whom live in areas of considerable deprivation.
His work has included outreach with young people from different ethnic and religious communities, children and adults with disabilities; and he has played a key role in using the power of the Leeds Rhinos club badge to deliver projects in mental health and wellbeing, literacy and physical activity.
Mr Jones-Buchanan played with the Rhinos for 21 seasons. The Bramley resident said he was "over the moon" at the honour.
"When lads from Bramley get letters home with HM Services on it, it doesn't always translate as something positive," he joked, describing the moment he was given the letter at the Leeds Rhinos training ground in Kirkstall.
As a trustee of the Leeds Rhinos Foundation, the assistant coach has helped deliver opportunities to children and young people across Leeds. He added:
"I have a great sense of gratitude for that that I want to repay. I can't repay the people who allowed me to do that, but I can pay it forward and make sure that I'm conducive to the next generation having that same opportunity that I did, if not better."
He also thanked his wife for her support.
Congratulations to Jamie Jones-Buchanan on his MBE in the #NewYearsHonours, we are certainly proud to have him in our 'tribe' in Leeds
➡ More https://t.co/91PfaEqKOD pic.twitter.com/yiCXnsroZx

— Leeds Rhinos (@leedsrhinos) January 1, 2022
Georgia Taylor-Brown
Georgia Taylor-Brown, 27, lives in Calverley and was awarded her MBE for her services to triathlon.
Ms Taylor-Brown won silver and gold medals at the Covid-delayed Olympic Games in Tokyo last year. The Reverend Robin Gamble, of Calverley Parish Church, spoke to her last June ahead of the Olympics:
Most Excellent Order of the British Empire (OBE)
Alison Lowe
Alison Lowe was awarded an OBE "for services to mental health and wellbeing during COVID-19" through her former role as Chief Executive Officer at Touchstone, a mental health and wellbeing charity.
Ms Lowe, who was the first black female Leeds city councillor, is now West Yorkshire's Deputy Mayor for Policing and Crime. She Tweeted:
"I'm so overwhelmed and proud to have been given this honour. Working for @Touchstone_Spt was the privilege of my life and to have been recognised for my work there is the cherry on top. THANK YOU."
Prime Minister Boris Johnson paid tribute to all the people in the New Year Honours list. He said: "These recipients have inspired and entertained us and given so much to their communities in the UK or in many cases around the world.
"The honours are an opportunity for us to thank them, as a country, for their dedication and outstanding contribution."
And Councillor James Lewis, leader of Leeds City Council, added: "It is hugely inspiring to see so many different people who have worked to make a difference across Leeds and beyond being honoured today.
"The sheer diversity of individuals named on the honours list is a true testament to what a special city Leeds is and fitting recognition for the exceptional work taking place across our communities.
"I'd like to congratulate all those who have been honoured today and to thank them for everything they have done to fly the flag for Leeds in what has been a challenging year."