Words: John Baron, Editor
One of the leading lights behind the successful campaign to save Bramley Baths from closure more than a decade ago has stepped back as chair of the organisation.
Last night's AGM saw Mr Battle, 70, sign off as chair after successfully leading the community led organisation since it took over running the historic facilities from Leeds City Council on 1 January 2013.
He had previously chaired the two-year campaign to save the Baths and convince the council to let the community run it.
Speaking to West Leeds Dispatch, former Leeds West MP Mr Battle said he was 'genuinely moved' by the send-off from staff, supporters and customers, which saw him presented with a painting of the Grade II Listed building by local artist and Baths regular Linda Roberts.
The Baths have also announced a new lifesaving competition in Mr Battle's honour and have also made him honorary president.
Mr Battle said:
"I've had the privilege of being involved with the Baths for – it must be almost 11 years now. When we took over I was reluctant, after 23 years as an MP, to take on a full-time voluntary job leading the Baths, but I have learnt so much from it, made all the easier by brilliant teamwork from volunteer trustees and professional staff.

"I've been in government around the Cabinet table, and worked with other local groups, but the model that's worked the best has been Bramley Baths, in terms of everyone working together as a team. Its strength is its foundation, and it's been brilliant.

"if you take away the last two letters of 'trustee' and you're left with the word 'trust', and that's always inspired me over the years. The trust I had in my fellow trustees and in the staff who work here."
Mr Battle also paid tribute to the support of the Bramley community over the years. He said:
"When we took over there were some who told us we would never make it work. Sadly we have seen other organisations going to the wall during this pandemic but we are still standing. Since the Baths became community led in 2013, Bramley's community have proved that they can save and successfully run a major service and come through the worst epidemic to hit Britain in 100 years.

"We've shown that Bramley won't just put up with people coming into a community and taking money out, we will do something about it and take ownership."
But Mr Battle, who is still heavily involved in a number of community initiatives across the city, including New Wortley Community Centre, said the Baths has emerged strongly from Covid lockdowns and is perfectly placed to help lead Bramley's recovery.
"It feels good to say that were are still here, we're still strong despite the closures and our staff are still strong too," he added. "What the Baths offers in terms of health and well-being is needed now more than ever. We're here to help rebuild the community's health, both physical and wellbeing after Covid.
"We've got a strong team, staff and trustees to take us into the future, and now is the right time for me to take a step back and let someone else have a go."
Mr Battle will be succeeded as chair by Nicholas Quin, who had been treasurer at the Baths. He paid tribute to his predecessor and looked forward to a positive future by adding:
"John has been the driving force behind the Baths for over 10 years. His drive, passion and idealism have kept this crucial building going, and kept Bramley healthy. We're proud to continue John's work and will keep teaching children and adults to swim, as well as working to be Britain's friendliest Baths.

"We are now back up to full capacity after COVID, and are delighted to be welcoming people back to the Baths. We have big plans to support people's recovery from COVID, and ensure that the building is fit for a long future at the heart of our community."
Bramley Baths chief executive David Wilford also paid tribute to Mr Battle's tireless work. He added:
"It's been a privilege and amazing to work with him. He exudes a passion for the Baths and always inspires those around him with new ideas and his positivity. We will miss him but we're glad he's still connected as honorary president."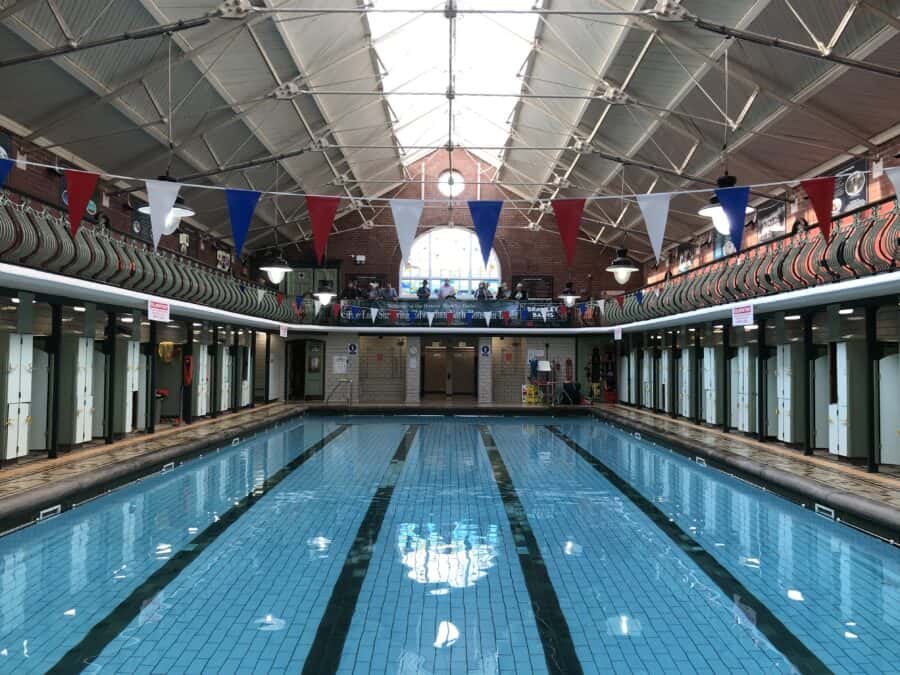 Anyone thinking this will be the last time they'll see John Battle at the Grade II Listed Baths are in for a surprise. The 70-year-old is slowly building back his strength following Long Covid, and is looking forward to starting his rehabilitation with Tuesday morning gym sessions with instructor Nathan.
"I'm going back to being a user, and I am grateful personally that we still have such fantastic facilities and knowledgeable and friendly staff", Mr Battle added.
Built on the site of a foundry, Bramley Baths first opened as a pool and public bath house in 1904, enabling people to wash, swim and use the new Russian Steam Baths – fashionable with the Edwardians as a healthy past-time.
It was one of a number of council-run facilities built at the time to support those who didn't have running water in their own homes, and to improve hygiene during a time when cholera was rife.
The foundry chimney, built with 8,000 Kirkstall bricks, still towers over the building and can be seen from across Leeds.