A study into the effectiveness of three fish passes on the River Aire has revealed that up to 100% more fish are able to successfully swim through weirs throughout the river.
Environment Agency chiefs have hailed the developments a huge boost for both the river's biodiversity and the population of a range of fish species. thanks to fish passes at Armley, Kirkstall and Saltaire.
Carried out by researchers from the University of Hull and funded by the Environment Agency, the study began in 2018 as part of the Developing Natural Aire Project (DNAire) and involved studying a series of weirs along the River Aire to understand how passable these were to fish.  
Initial results from the study showed movements between key life stage habitats, including those for spawning, feeding, resting and nursery grounds, were restricted due to these structures.
The study found that only a small proportion of brown trout were able to ascend some weirs without fish passes (except for one very small weir), but even this hardy species struggled to pass larger weirs. When a few trout did finally ascend, they often had to make numerous attempts, and could only successfully climb under high flow conditions, when there was sufficient water depth coming over the weir –one 'successful' fish spent 90 days below a weir before managing to make the ascent.
Due to the large migratory movements these species undertake, and the technology used to monitor their movements, this investigation was also able to show fish were able to successfully ascend fish passage structures that had previously been installed within the study area.
In late 2020 /early 2021, three fish passes were opened along the Aire, funded by a grant of National Lottery heritage and income generated from the sale of rod licences. Fish were tagged and studied to see to what extent the structures allowed for them to negotiate weirs. 
The commissioned study demonstrated that fish could ascend these weirs faster and on a wider range of flows than prior to the fish pass installation. Overall, up to 100% of tagged brown trout were able to pass, taking them a maximum of just 3.28 days to make the ascent.
A 26% increase in the proportion of coarse fish tagged (such as chub and barbel) that were able to successfully navigate these obstacles was also reported, meaning many more fish were able to reach spawning, nursery and feeding habitats further up the catchment.  
It's hoped that the passes on the River Aire will also enable the Atlantic salmon to complete their mammoth migration from the sea to spawning habitat beyond Skipton and into the Yorkshire Dales, and help safeguard the endangered eel (which migrate to sea to spawn).  
Thomas Somerville, DNAire Project Manager said: "It is fantastic to know that these fish passes in the upper River Aire are working as designed, and important fish species are rediscovering their key habitat  
"As well as reopening rivers to fish migration and protecting ecologically important and endangered species like salmon and eel, fish passes are an amazing opportunity to reconnect river-resident species and the local community.
"Over the coming years, we look forward to seeing a growing proportion of trout, chub, barbel and salmon run spawning journeys higher up the river and a recovery in their populations."
Neil Trudgill, Environment Agency Fisheries Technical Specialist, said: "DNAire is a fantastic project and a great example of partnership in action between the EA and Aire Rivers Trust. 
"The Aire has a fascinating history, and this important work has focussed on ensuring the sustainability of the rivers fragile coarse and trout populations as well as re-establishing populations of the iconic Atlantic salmon and eel.
"By opening up these barriers along the river, we can preserve our beloved fish species for future generations while reconnecting the community with their blue and green spaces."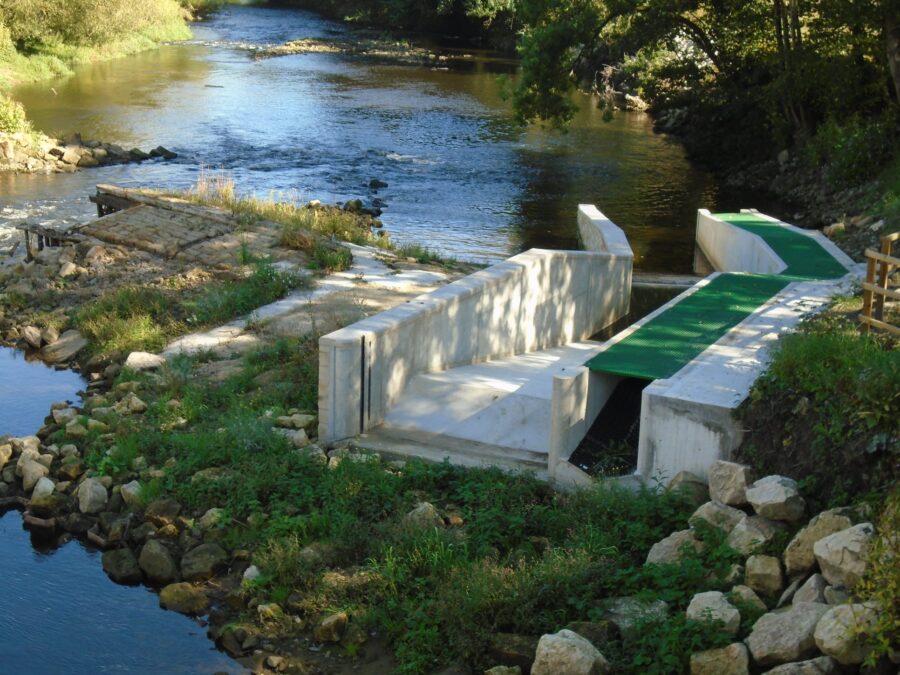 Newlay Weir fish pass debated
A fourth fish pass was installed at 332-year-old Newlay Weir on the River Aire.
But as reported by WLD last month residents are calling for urgent action to demolish the fish pass at the weir, which was badly damaged during a storm two years ago.
Large parts of the weir were washed downstream in February 2021 as works to install the fish pass were carried out.
Two years on, local residents are becoming increasingly concerned over what they claim to be inaction over deciding the future of the Grade II Listed weir. And chair of Newlay Conservation Society, Martin Hughes, has said that the fish pass is no longer needed there as it has been left high and dry and inoperable due to the break in the weir.
The Environment Agency has attempted to reassure residents that they are still actively working towards a long-term solution for the future of Newlay Weir and the fish pass. They said the complexities of the location with its significant heritage, biodiversity and local value means they cannot progress this alone and are working with several other organisations. 
The Larinier fish pass along the right bank of Newlay Weir was designed to allow passage over the weir for salmon and sea trout which migrate from the Humber Estuary to the headwaters of the River Aire.
Sponsored content