The market town of Pudsey has a rich history and its own distinct identity, writes John Baron.
As Pudsey lad myself, I was always brought up to tell people who wrote letters to me that they should address it to 'Pudsey, West Yorkshire', and never 'Pudsey, Leeds'. Pudsey, my mother always told me, was Pudsey and most certainly not Leeds!
That identity has been threatened over the years. There are those who mourn the loss of Pudsey's independence during the local government reorganisation of 1974 when the town was absorbed by Leeds.
The once bustling market, once the beating heart of the town, is now a pale reflection of what it once was.
But in adversity, Pudsey is starting to find its voice again.
Local residents are fighting to save historic Greenside Tunnel from developers. And they're making a BIG noise about it.
A Facebook campaign 'save Greenside Tunnel' secured over 13,000 views in its first few days alone after owners of the land in front of the tunnel, EP Homes, started to pull down trees and vegetation around the disused railway site.
Residents have expressed concern over the disturbance of bats and other wildlife in the area.
They have raised concerns about work around the railway cutting in the ward and are worried about the impact of works on the cutting, running parallel to Station Street, near the Royal Public House.
Councillor Josie Jarosz (Labour, Pudsey) said:
"We know that the best developments are the ones with full local consultation and community involvement at every step of the process. As a local ward member I have not been adequately consulted on work in this area and I hope this can be remedied by the companies involved quickly.

"I am outraged and disturbed about the impact on the surrounding areas, including on local wildlife, if trees and vegetation are being removed. The vegetation has only just recovered from the last time it was cut back, so it is desperately disappointing that it has been cut back again."
The Highways Agency's Historical Railways Estate, which owns the tunnel, has said it is resisting the developers' proposal to seal the tunnel mouth as this would deny access from one side and would significantly change the nature of the tunnel from a health and safety perspective.
I have many happy memories as a kid of going through Greenside Tunnel. I did my GCSE history project on Pudsey's long-dead railway network, a victim of Beeching's butchery long before I was born. I abseiled down the side of the tunnel from the 1st Pudsey Scout Hut as a cub almost 30 years ago.
While I mourn the attack on Greenside, I can't deny it's good to see the reaction of local residents. They're not taking this lying down.
About half a mile away residents in the Roker Lane area are planning to fight the erosion of the green belt as developers circle a substantial piece of land with a view to building houses on it. Residents are threatening an Easter protest event and a public meeting.
A regular look on the excellent Pudsey Born and Bred Facebook page shows a simmering anger surrounding the monstrosity that is Pudsey's (relatively) new UFO-esque bus station.
The building, which has polarised residents, seems to have been dropped in the middle of town without thought or respect for its surroundings.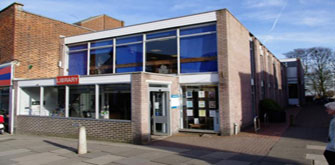 And last month's announcement that council services would move into the library to form a 'one stop centre' were largely welcomed. But there was still that niggling worry about what would happen to Pudsey Town Hall – OUR Town Hall – which still hosts the old council and court chambers.
I've written before about how I look over at Morley with jealousy. They have their own town council (and a team of Morley Borough Independent city councillors).
Life's not perfect in Morley by any means, but I keep wondering: 'How much better off would Pudsey be with similar levels of protection?' I know we've got Pudsey Civic Society as a 'junior' civic watchdog (and a grand job they do), but we should have more.
I was a member of a campaign in the late nineties which aimed at restoring something Pudsey hasn't had since 1974 – a town council.
Town and parish councils are the first level of local government. They provide communities with a democratic voice and a structure for taking community action.
I've never been quite clear why the campaign to get a town council in Pudsey wasn't successful then. It was led by the local Tories at the time (I'm not one, by the way) but seemed non-political.
We collected the necessary number of names to trigger Leeds City Council into carrying out a 'community governance review' to see if a local council should be created.
But I suspect some petty politics came to the fore and the plan was scuppered.
Either way, thanks to new legislation it's now easier than ever to get a town or parish council set up. Check out this guide from central government for more.
Is now the time for Pudsey to grasp the nettle and have its own representative body again?
I don't live in Pudsey any more, so it's not for me to lead this charge. But I hope someone, somewhere in Pudsey, can channel the anger and community spirit that still bubbles away in the town and perhaps follow the link posted above to the government website.
Perhaps they'll think 'I can help get this process under way' and go for it.
I hope so. Pudsey deserves a voice.