What has a splash of classic Christmas spirit, a whiff of sprouts and a giant turkey that steals the show? Nope, it's not a joke, it's the festive play for families with young children being staged at Farsley's own Rainbow Factory this season, writes Rebecca Whittington.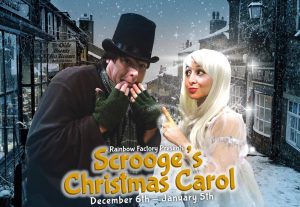 Even the wriggliest of children will sit still (probably) for the entertaining performance of A Christmas Carol – which dishes up the traditional tale in just 40 minutes.
There are a host of heavenly jokes to be enjoyed by children and adults alike, trimmings of seasonal and silly songs, all polished off to perfection by a brilliant two-star cast. 
With a script that effortlessly weaves elements of Dickens' famous tale into lines also referring to the unfortunate side effects of sprouts, children are both enchanted and entertained. 
Elements of panto have the audience screaming 'it's behind you' while ballet dancing, disco dancing and grub-loving ghosts serve up a hearty helping of moral guidance with a side of slapstick. 
While the fear factor is kept to a minimum, the serious subjects of poverty, fairness and mortality are subtly touched upon; prompting the young audience to respond with a natural and rather lovely empathy and outrage. 
The performance is delivered brilliantly by Lydia Toumazou and Bruce Sharp – both of whom demonstrate talents for acting, singing and dancing and whose comic timing had the audience giggling from the off.
The pair are supported by a cast of the Rainbow Factory's famous wonderfully life-like and magical handcrafted puppets and a gorgeously endearing Tiny Tim, whose plight prompted a few tears from some of the older children.
Toddlers as young as two were captivated by the on-stage action and interaction, while older children joined in to help make the magic of the performance.
Former visitors to the storytelling hub that is the Rainbow Factory will be aware of the venue's talent for capturing creative young hearts and minds, – and this performance delivers with no exception.
At £6 a ticket, A Christmas Carol in Farsley is a much more affordable option than the alternatives in the city centre – and there is parking available on site. 
Performances will take place from today (December 6) to January 5 at 11am, 2pm and 6pm. Booking is recommended.
For more information visit www.rainbowfactorykids.com/christmas-show