Farsley Farmers Market is now in its fifth year, writes Jo Reilly.  It was set up in March 2014, after discussions with the Farsley Business Forum, to open from  9am to 12.30pm every fourth Saturday of the month.
As you enter the market you discover a range of quality savoury and sweet produce stalls, with meat, vegetarian, free from and vegan options, plus a Family Attraction which could be an animal rescue, a charity, vocalists or performers.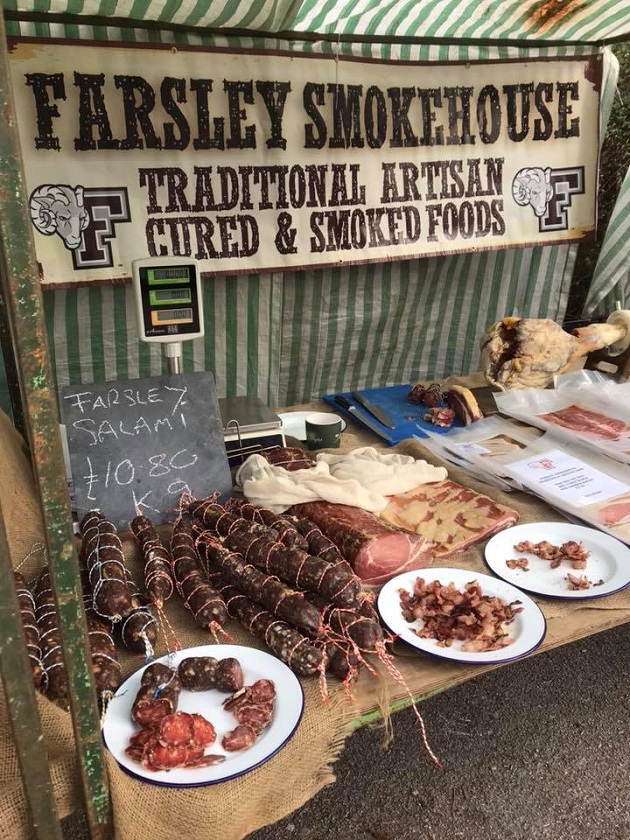 Once inside you can take the weight off and sit with a coffee or tea and a hot sandwich – the local butcher, Harvey Davis & Sons, have supplied the kitchen with bacon and sausage from the start.
Our delightful group of Hand Crafters & Gift Sellers stem from Farsley and surrounding areas and the Book Sale is held by Friends of St John's Church.
Thanks to West Leeds Mumblers we also have a regular Toy Exchange bucket on hand and most months you can enjoy Facepainting (as every month would be too indulgent!).
If you haven't found us yet, we are located off the main shopping street in St. John's Hall and grounds, New Street, Farsley, LS28 5DJ.
Our events are Family friendly and your dogs are welcome too.  We have a disabled toilet and ramp access plus St John's award winning Adult Changing Place, entered by radar key.
On Market days there are more road users and fewer parking spaces so the early birds find the best spots!  Don't worry though – later shoppers are invited by Go Outdoors to use the lower end of their car-park and take the two-minute walk back along New Street.
New Pudsey Station is not far away from us and local buses drop you at the gate.
Farsley Farmers Market is looking forward to Farsley Festival  on 23rd June  when our Market will have a Dance Troupe to entertain our customers and, like Pied Pipers, they will lead families to Hainsworth Park for the Festival activities, which take place midday to 5pm.
Fetch your own seating/blankets and sun cream and maybe a picnic from a selection at the market.
Follow on facebook and twitter by searching: Farsley Farmers Market
For general enquiries E: farsleyfarmersmarket@hotmail.com. To volunteer with us call M: 0787 255 3633.