By John Baron. Photos: John McEvoy
Farsley Celtic striker and head coach Clayton Donaldson limped out of his side's final pre-season friendly in a match that was at times anything but 'friendly'.
Former Bradford City and York City striker Donaldson was subjected to a series of full-blooded challenges by a physical Guiseley side and limped off with a leg injury after the fourth heavy challenge on him before half time.
Visitors Farsley will be hoping the injury isn't too bad just a week before next Saturday's National League North opener at Rushall Olympic.
As pre-season games go, it certainly wasn't a game for the feint-hearted as the tackles flew in at Nethermoor. In the second half there was a melee involving most of the players on the pitch following a challenge by Farsley's Misambo, who was booked along with a Guiseley's Liam Tongue, who had reacted with a push.
Guiseley were clearly out to disrupt new-look Farsley's passing game and it was the home side who started the brighter of the two teams. Guiseley's Pratt was through on goal but Farsley's young keeper Harry Allen did well to make himself big and block the shot.
The visitors slowly came into the game and took the lead in stunning fashion in the 26th minute. Tom Allan was fouled in what appeared to be a crossing position on the left of the penalty area but Ryan Watson fired an unstoppable drive into the top right corner for his first strike since his return to the club.
Guiseley came close to equalising 11 minutes later as Kendall's shot went just wide of the right post.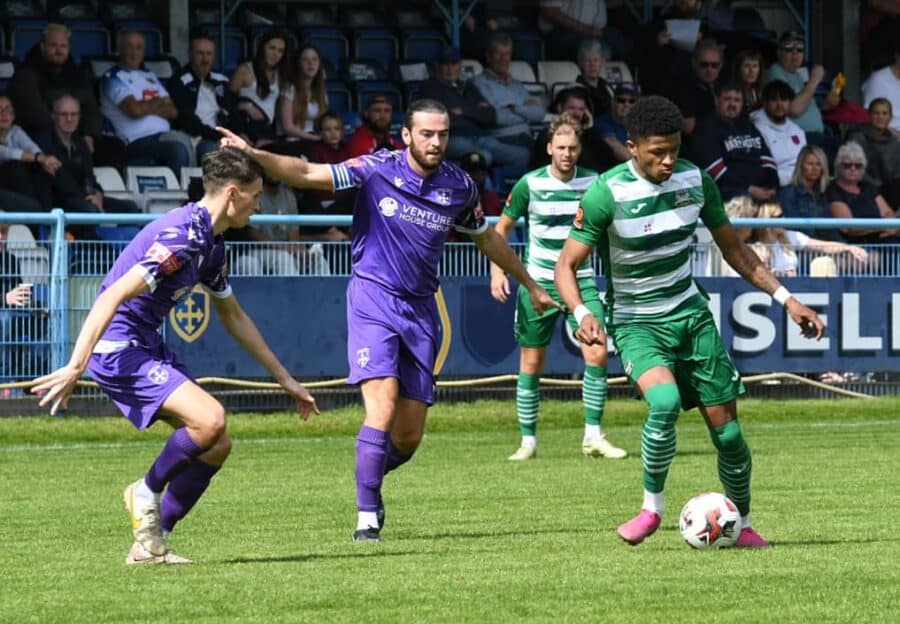 Farsley started the scored half with much more control over their lower league opponents, but it was the home side who equalised after 54 minutes, with Kallan Murphy firing the ball home.
In the latter stages of the game, the home side pushed strongly for a winner, the The Lions thought they'd taken the lead, but the linesman's flag saved the Celts after some unconvincing goalkeeping from young Allen. A Guiseley trialist then struck the frame of a goal with three minutes' remaining.
Over 90 minutes 1-1 was probably a fair result and a useful workout for Farsley, who finish pre-season with three draws and three defeats as they seek to bed in 11 new players, a new management team and a new playing style.
Next Saturday The Celts travel to the West Midlands to face newcomers Rushall Olympic in the National League North opener. They'll be hoping Donaldson will be fit for the game, along with injured defenders Isaac Assenso and Lewis Turner.
Sponsored content