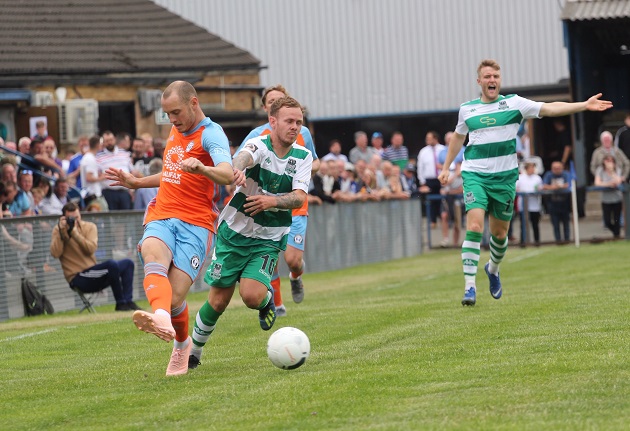 Farsley Celtic's new chairman has promised the club will never be ridiculed for postponements again – just 24 hours after his team's game against Rotherham United was called off.
The Celts were due to play Rotherham at their recently re-named home The Citadel ground – but Rotherham refused to play, criticising the poor condition of the playing surface and calling the game off an hour before kick off.
Farsley chairman Paul Barthorpe spoke of his disappointment and frustration over Rotherham's decision in a statement released this evening. The statement read:
"Last night's cancelled game was hugely disappointing and frustrating, particularly given the amount of time, effort and resource that has been put into the site, specifically the pitch, to try and correct issues created by previous activity.

"We as a club didn't blindly enter this match on a wing and a prayer, we took independent advice from two different groundsmen who confirmed that although not beautiful, the pitch was safe and playable.

"We played there last Saturday with no issues, and the feedback we received from the players was that it actually played well. We have trained on the pitch in the week and last night's referees were happy to proceed with the match, and following the cancellation we trained on it again.

"Rotherham's decision not to play on the pitch is of course their decision to make, and if that's the course of action they chose to take then so-be-it. We respect their decision to do so.

"The pitch clearly isn't yet perfect, no one is disputing that, but we would not set ourselves up for a fall in this manner, having sought multiple independent expert opinions first, and having played on the pitch last week we were of the informed opinion that the pitch was and is fit for purpose.

"If we didn't believe this was the case we would never consider putting any of our own players at risk by asking them to play on it."
Mr Barthorpe said the club has already appointed a groundsman who will maintain and care for not only the main pitch on site, but also the training and academy pitches. A support team and resources have also been put in place. He added:
"Having only been at the club a few weeks now, I have put a lot of focus on getting the pitch right, as the pitch has a history of being poor, and I know that this isn't the first time a pre-season friendly has been called off due to issues with the pitch.

"But what I can assure everyone of is that this will be the last! I will not allow our club to face ridicule like this again from anyone!"
Rotherham united manager Paul Warne said last bnight that he 'had to call the game off for the safety of both teams' players'. He added:
"You can see that the club have done some work on the pitch over the summer and I am sure that it will be fit for purpose in a couple of weeks' time, but unfortunately, tonight, it was not in a suitable state for either side.

"We've worked hard to keep the lads fit in the off-season and during pre-season and playing the game tonight on that surface was not a risk I was willing to take."
____________
Local news is in crisis. Can you help?
These are challenging times for local news providers – and producing your daily dose of West Leeds Dispatch comes at a cost!
We're a small, community-led news organisation which needs your support to keep delivering quality journalism. We want to continue to maintain our openness and protect our precious independence – and above all to connect people with what's happening in their part of West Leeds. Every reader contribution, big or small, helps us to do that.
For as little as £4 a month (£1 a week) you can support us – and it only takes a minute.
Or set up a standing order with your bank: Contact us on Paywestleedsdispatch@gmail.com if you'd like to do this.
Your support will make a difference. Thank you.