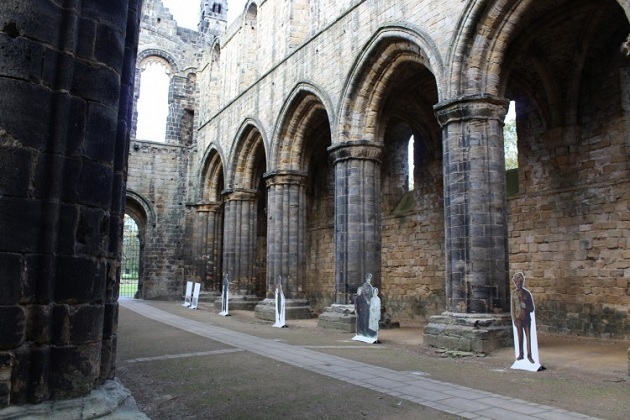 Inspiring stories of faith, heroism and compassion are being retold through a collection of powerful artworks and images displayed in the ruins of Kirkstall Abbey.
The new Faith in Peace and War display, in the Abbey's nave from November 1, is part of the city's commemorations to mark 100 years since the signing of the historic Armistice which ended fighting in the First World War.
Featuring brand new work by local artist Suman Kaur alongside archive photography, the display gives a window into the lives of individuals from different faiths and backgrounds who like many others had their lives irrevocably changed by the conflict.
Faith communities from across Leeds have co-curated the display, helping to choose important figures who they felt best represented their religion's response or connection to the war.
Among those who feature is Marcus Bailey, who left his homeland of Barbados in 1902 and went on to become an experienced and respected naval serviceman.
His story has been told through the Africans in Yorkshire project, a partner of the WW1 Heritage Project by Leeds Museums and Galleries and his family travelled from their home in France for the exhibition launch.
Other individuals include Khududad Khan, who became the first South Asian soldier to be awarded the Victoria Cross and who was chosen by Maboob Nazir, vice chairman of the Abu Haraira Mosque in Beeston.
In October 1914, hugely outnumbered and with his comrades all killed, he continued to hold up enemy troops until re-inforcements arrived at the village of Hollebeke in Belgium.
Today, his Victoria Cross is on display at his ancestral house in Pakistan.
Also featured is Geoffrey Studdart Kennedy, an Anglican priest from Leeds, who was chosen by the city's Christian communities. In 1917, he was awarded the Military Cross for running into no man's land to help the wounded during an attack on the German frontline.
Leeds Museums and Galleries project curator Lucy Moore, from Bramley, has brought the exhibition together. She said:
"These people all followed different religions and came from completely different backgrounds and, as it did for so many others, the war completely and profoundly changed the courses of their lives.

"What unites them is their courage, conviction and the strength of their beliefs in the face of a war unlike any the world had ever seen. By bringing their stories together, we hope to help visitors see those common threads as they contemplate the impact of the war in the beautiful and atmospheric surroundings of the Abbey."
During the First World War, Kirkstall Abbey was the site of services of prayer and thanksgiving, where different Christian communities came together to pray for an end to the war.