By John Baron, WLD editor
It's been busy this week! There are a several issues we've covered which have really prompted a rigorous debate from readers this week.
WLD has been featuring the debate over the junction at Stanningley Bottom since 2016. Over the years, there have been petitions and campaigns to improve the junction which was originally altered as part of the works to introduce the cycle superhighway.
Some say the junction is in poor condition and a danger to motorists, while others maintain the issue is with individual drivers making mistakes. It's certainly a junction which polarises people.
Councillors from Labour, Conservative and Green parties in West Leeds last summer asked council highways officers to go away and come up with a comprehensive £100,000 scheme which would sort the problem once and for all. But it's gone quiet since, hence this week's article.
I understand there is actually a new scheme drawn up, but the council – which is struggling for money – is looking for finances to pay for it. A case of watch this space, although I don't expect anything to happen until after the May elections.
In other news, Leeds City Council scrapped its proposal to introduce 40p per hour parking charges at parks and green spaces across the city to bring in badly-needed cash.
We'd heard whispers on the grapevine a couple of weeks ago that the plan wouldn't go through, although I hear initially the idea was to keep the plans for charging at some of the bigger city parks. I've been a journalist for 30 years now, and the outcry was so large it was clear the council couldn't possibly ignore it.
Another story we've been following closely which received a major update this week was the revamp of Bramley Bus Interchange, which was due to be completed more than a year ago. The £495,000 revamp, funded by West Yorkshire Combined Authority, is now facing having some of the bus shelters replaced and others modified as they aren't wide enough for people to access safely.
Honestly, you couldn't make it up. We'll keep monitoring the situation until all the shelters and work on the rest of the scheme is actually complete, but the people of Bramley have every right to be angry about the way they've been treated on this.
That was the week that was
Our most-read story was the council's refusal of a planning application for a new cafe and other changes – some of which are retrospective – at the Abu Bakr supermarket on Kirkstall Road. It's the second time the plans have been refused by Leeds City Council planners. Be interesting to see what the supermarket owners decide to do next.
As you may have guessed from reading earlier, transport is always a hot topic – and our story about a councillor's fears that Leeds is building a reputation for being 'anti-car' was well read – and prompted a plethora of comments. Are carrots needed, rather than sticks, to encourage more people out of the car and ease our congested roads? Transport, roads and bus/bike lanes are one area where the council get such a lot of stick – expect the debate to rumble.
And a 'good news' story also proved popular – our exclusive piece on Pudsey Civic Society edging towards taking over a floor at the disused Pudsey Town Hall certainly caught the town's imagination.
The Town Hall has been at the heart of civic life in Pudsey for more than 140 years (it used to house the town council and magistrates' court, as well as the council's housing office) but in recent years has fallen empty. In these days of local and c central government cost-cutting questions had inevitably been asked about its future.
If this is the first step towards preserving its future, then it's a very welcome one – and great that Pudsey's historic archives will sit alongside the former council chamber, which still features many of its original features and history.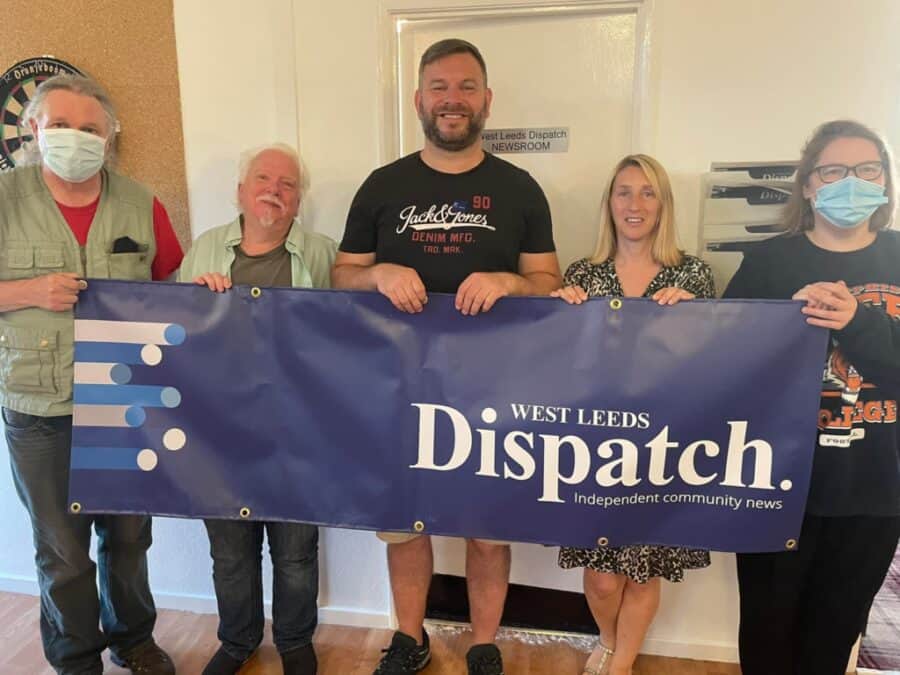 DCMS select committee report welcomed
A DCMS Select Committee report on the sustainability of local news was released this week, setting out in stark terms the threats facing local news in the United Kingdom and outlining several steps the Government must take to ensure that local news providers can continue informing and engaging their communities.
These include establishing a public interest news fund, facilitating philanthropic funding to local news publishers, and ensuring that forthcoming digital markets legislation will allow smaller publishers of local news to reach fair commercial relationships with tech giants like Google and Meta.
Some of you may recall I travelled down to Cardiff last year to lobby MPs on the committee alongside other independent publishers who are part of the Independent Community News Network.
I am particularly glad to see the committee's acknowledgement of the crucial role played by small, independent news publishers. Publications like WLD must be fairly remunerated by the big tech platforms if they are to thrive in the digital economy. They must also be able to access public funding and philanthropic support as the committee recommends.
We know that our journalism has a positive impact, but we're a small organisation with limited resources. If there was a public interest news fund to support organisations like us, we could do so much more for the people of West Leeds.
Independent local publishers are playing a vital role in communities across the UK. We need a fair share of funding so that we can compete on a level playing field with corporate publishers.
It will be interesting to see what the Government's response will be.
Support independent people-powered journalism in West Leeds
The West Leeds Dispatch is the independent voice of West Leeds, run by a group of passionate local residents.
We have a community led board of volunteers and a team of community reporters. We are an independent grass roots organisation made in West Leeds itself – but local journalism costs money to produce and we need your support to ensure the long-term sustainability of our project.
We're inviting our loyal readers to become supporters of the West Leeds Dispatch, to help keep the lights on for our project and help shape our future. Find out more about becoming a supporter here.
Sign up to our daily newsletter