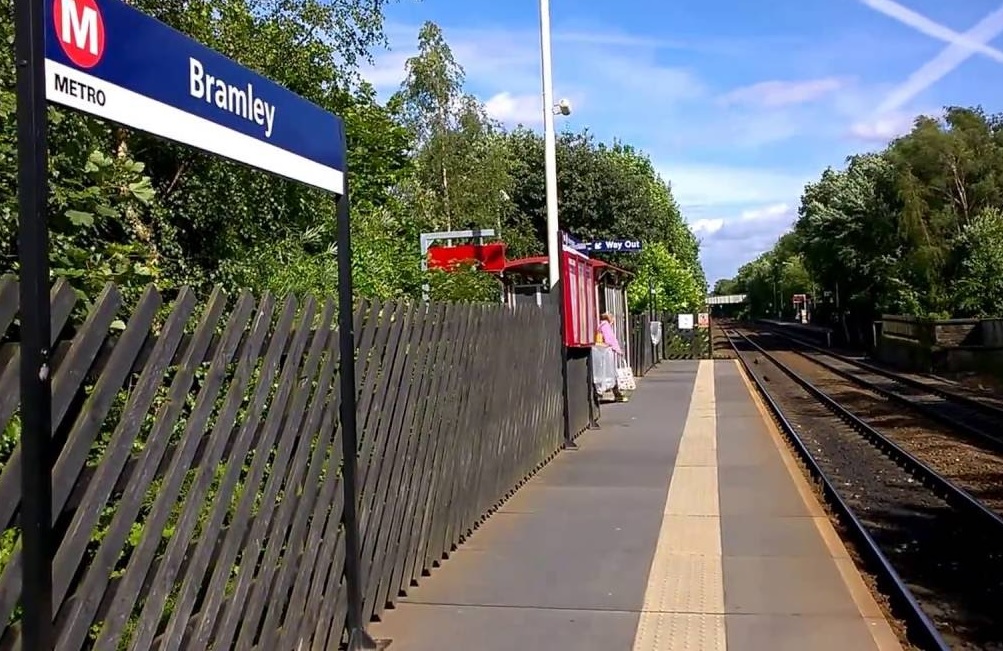 Bramley Station needs to be made safer – that's the call from passengers and Leeds West MP Rachel Reeves.
Ms Reeves is demanding urgent action from Transport Secretary Chris Grayling to give Bramley Station a much-needed upgrade.
The Leeds West MP has written to Mr Grayling to call for a host of improvements to ease the safety fears of people using the station.
Regular station user Danielle Blanchard today contacted The Dispatch to express her concerns. She said:
"It's just not safe. I went there by myself on Saturday evening, the lighting was so poor in places and I didn't feel safe at all. Northern Rail really needs to sort it out, you feel quite isolated there and there's not always a lot of people around at night.

"I won't use it again until it's made safer."
Fellow user Mark Brown added concerns about overcrowded carriages. He said:
"The services at Bramley are already too few. All too often I find myself waiting for a delayed service that then stops to allow passengers to get off and not let anyone on due to overcrowding."
In her letter to Chris Grayling, Ms Reeves said:
"My constituents regularly contact me with concerns about Bramley Station, in particular the quality of lighting, the need for better CCTV and improved seating."
Following a meeting with Northern Rail, the West Yorkshire Combined Authority (WYCA) and local councillors, it was agreed that CCTV and better lighting were required in the wake of reports of increased criminal activity around the station.
However, Ms Reeves told the Transport Secretary that Northern Rail had failed to outline a timescale for the upgrade or offer a commitment that CCTV cameras will be installed.
The MP also raised the continuing problem of overcrowding that leave many travellers unable to board some trains.
In addition to her letter to the Transport Secretary, Ms Reeves has also written to Northern Rail Managing Director, David Brown and Councillor Kim Groves, Chair of the WYCA's Transport Committee, about the need for improvements and better services at Bramley.
Commenting, Rachel Reeves MP said:
"Travellers using Bramley Station deserve far better. They have endured overcrowded trains, poor lighting that makes them feel unsafe at night and limited car parking for far too long.

"The station is in urgent need of an upgrade and the delivery of promised improvements like better lighting and cameras.

"We also need to see Northern Rail doing far more to try to ease the terrible overcrowding on peak services which is causing needless distress to my constituents who are missing appointments and are late for work as a result."
Northern Rail have been contacted for comment.
___________
While you're here…
Producing your daily dose of West Leeds Dispatch comes at a cost!
There's the hosting of the website you're reading now, running our popular e-mail newsletter, membership of independent press regulator Impress, attending summer events, paying for equipment etc etc.
We need at least £200 a month just to break even – that's money currently coming out of the pockets of dedicated volunteers who are passionate about what's happening in our communities, connecting you with local groups and organisations as well as holding decision-makers to account and championing local issues.
And all that's BEFORE we even think about paying something for people's time – for instance, our editor puts in more than 24 hours a week in his 'spare' time to ensure The Dispatch publishes daily.
To put it bluntly, after nearly four years of daily publishing, we are not sustainable!
And we need YOUR help to continue …
For the cost of less than a couple of cups of coffee you can help support local community news and continue to give our communities a voice by taking out a subscription for just £4 per month (that's just a pound a week).
As a thanks you'll get your name on a roll of honour on our website. More importantly you will be enabling us to keep bringing you the news that matters about your neighbourhood.
Achieving a bedrock of supporters will give us a firm financial footing and help us plan for the future.
Supporting us couldn't be easier…
Just follow this link.
or set up a standing order with your bank:
Contact us on Paywestleedsdispatch@gmail.com if you'd like to do this.
Over to you …