A Great Get Together/Big Lunch event will be taking place on Burley Village Green on Saturday 17th of June from 12 – 4pm, writes Adele Rae.
The Burley Top and Burley Village community associations will be holding a Teddy Bears' picnic which is aimed at bringing the Burley community together: to socialise and to also remember Jo Cox MP on the first anniversary of her death.
The event hopes to offer something for everyone. There will be a walking football match for more 'vintage' participants as well as live music from singer Laurie Briggs.
For younger members of the community the beach will be coming to Burley in the form of a giant sand pit. With a range of side stalls, a tombola, hook-a-duck, face-painting, balloon modelling and a pay-as-you-feel tea and cake stall.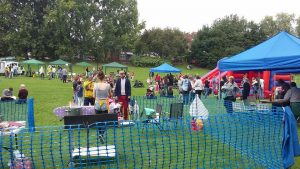 This is one of a series of events that the two community associations will be holding this year.
On 2nd September, there will be a Burley Festival following on from the success of last year's fun day, during October there will be a scarecrow making workshop on the first Saturday of half-term followed by the second Burley Scarecrow Trail.
Finally, in late November or early December (date to be confirmed) it is hoped that there will be a Christmas market with Christmas Lights and a Christmas tree in the village green area.
With plans to start work on an 'in bloom' gardening project around the village green area there really is lots going on.
You can find further information about how to get involved and the diary of events by joining the Burley Top Community Association and Burley Village Community Association Facebook pages.
Please come along to the Teddy Bears' picnic and join in the fun. Bring your friends, family and neighbours, bring your teddy bear and don't forget your bucket and spade! Burley really is blooming!