The inaugural John Battle Gala made a splash by drawing almost 150 children to Bramley Baths on Sunday.
The event was part of the ten-year celebrations of the Baths being community led and former Leeds West MP John Battle was instrumental in saving the Baths from closure by the council in 2013.
146 children attended the swimming gala and were all winners as they received certificates.
Baths CEO David Wilford said: "Parents and carers had a great time cheering on their children and tremendous applause to support other children.
"John Battle gave out certificates and medals to the winners. His encourage to the children was immense as he encouraged parents and carers to bring their children to learn to swim. Too many people are drowning in lakes, rivers and canals, and it is imperative that children learn to swim as it is an important life skill."
Marley Parker, the winner of the Dolphin 10 timed swims, in breast stroke, front crawl and back crawl, was the overall fastest across the disciplines.
She said "I love swimming and I am so proud of winning the two medals and the overall John Battle Trophy."
Mr Wilford encouraged Marley to keep swimming, as she had a real gift, and that next year there would be a John Battle Shield, which would be specially commissioned in John Battle's heraldry as he was knighted last year.
The Hamlet family said after the gala: "As a parent who struggled with swimming as a child and not very confident as an adult swimmer – swimming lessons are so important to our family. Nothing brings me more joy and pride, than seeing my children enjoying their swimming lessons, happily swimming safely in pools and making great progress at Bramley Baths – so thanks for all you do, for both our children and the community too."
Nicholas Quin Chair of the volunteer board closed the meeting by saying: "I would like to thank all the children, staff and volunteers for such a special day, the effort was amazing to see and all the children were winners and included. I would like to present Jennie Willets with some flowers as the planning was of military precision and made the day go so well."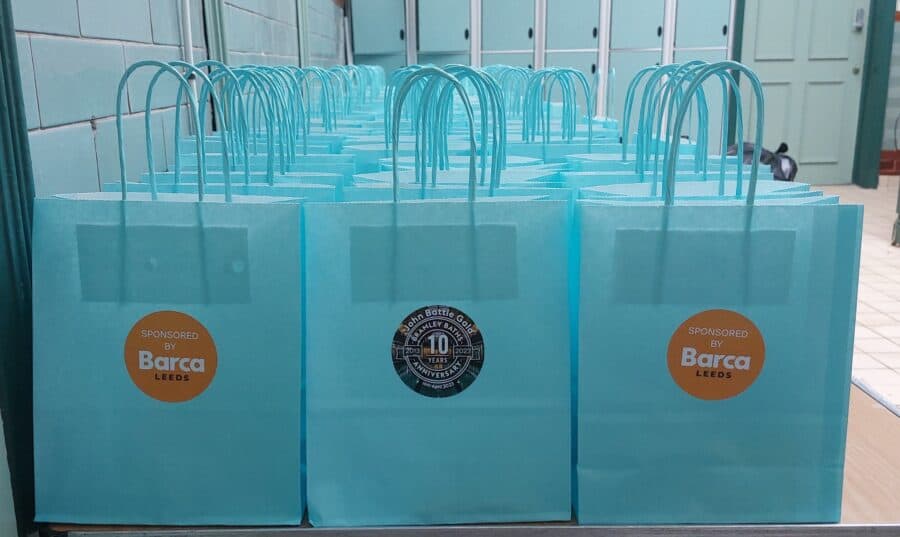 Baths' secretary Julie Badon said: "What a privilege to be a trustee of the Baths, seeing the gala and hearing great positive feedback from the parents made me proud."
Mr Battle stepped down as Bramley Baths chair in September 2021 after successfully leading the community led organisation since it took over running the historic facilities from Leeds City Council on 1 January 2013.
Sponsored content