Armley resident Simon Goulding is using Lockdown 2 to bring a bit of joy to the West Leeds community through Ten Days of Positivity, writes Jill Stocks.
And day four saw Simon and his friends bringing a bit of culinary delight to local residents.
Simon invited nominations for people to receive a dinner via facebook, inviting nominations for people who "are poorly, isolating, alone or just needing some love."
Between Simon and his friends 29 roast dinners were cooked and delivered to recipients mainly in West Leeds, but as far away as Huddersfield.
The idea was part of Simon's most recent effort for Ten Days of Positivity which he engages in periodically and was taking part in for the second lockdown.
Simon was helped in his efforts by friends Rebekka, Marc, Dan, Clare, Sarah, Andy and Paul, who between them made deliveries and provided cauliflower cheese, Yorkshire puddings, stocks and pigs in blankets.
In normal circumstances Simon is a DJ at club nights in Leeds and Huddersfield and is currently studying for a Masters degree at Leeds Beckett University. Simon said:
"When life's a little bit miserable for me if I'm cheering other people up it  cheers me up. It's just nice to cheer people up when there's so much going on."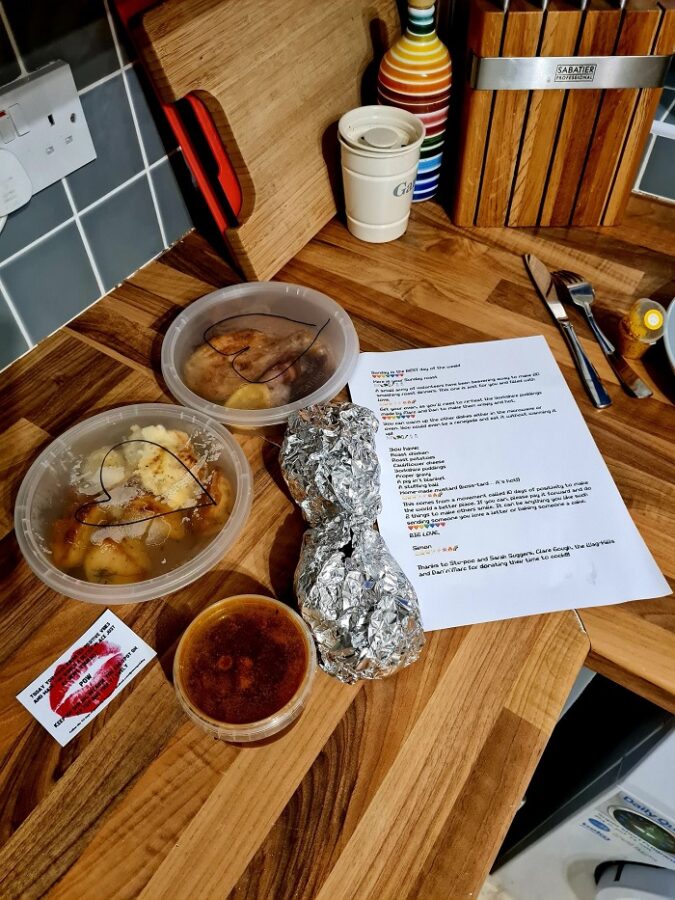 Louise Brown was one of the lucky recipients of a roast dinner on Sunday and a positivity letter the previous week. Louise works for the NHS providing care for Covid patients and said:
"I work for the NHS with COVID patients and have also had some personal issues alongside…my physical and mental health have both truly been tested! 

"But, then along came Simon with his '10 Days of Positivity'..something that I know is a great tradition of his that he is passionate about.

"Despite whatever he has going on in his own life, he is at his happiest when he is making others happy!

"These acts of kindness really help in these testing times, just knowing that someone cares and that you are not alone..it truly boosted my mood and put a smile on my face."
The three previous days of positivity so far have seen Simon setting up an exercise group via Facebook – The Lockdown 2.0 Positive Vibes Exercise Group – sending letters to people who might need a smile and setting up a group to help promote local independent business which you can join here.
We look forward to seeing the rest of Simon's Ten Days of Positivity, cheering people up in difficult times.