Let's face it, it's been a dark time for Armley.
The area hit the national headlines following the recent attack of a Polish man which police are treating as a race hate crime.
The shocking video below highlights the abuse faced by some members of the community, with one Polish woman abused as she's being interviewed by Channel 4 News:
Armley's long had a problem with anti-social behaviour and street drinking on Armley Town Street. Although strenuous efforts are being made to tackle this, The Dispatch understands a recent clampdown on street drinking in the city centre has led to the problem being pushed back out to Armley (and other places). It's unclear whether this issue is ever going to be fully resolved in Armley.
There was a heartbreaking article published this week by Armley resident Phil Kirby on The Culture Vulture website entitled 'Fear and Loathing in LS12'.
The article focuses on the abuse and anti-social behaviour Phil has recently experienced in Armley (including an attack on his house) and is well worth a read. He writes:
"Armley has a problem with a section of society that is totally out of control and absolutely not worried about the police or legal consequences. They certainly are racists but they are also a problem for everyone who lives here and wants just to get along. Random violence, damage, insults etc affect everyone."
His comments echo an article written by a Burnsall Grange resident for The Dispatch earlier this year. The post – 'I love Armley but I'm disillusioned' sums up the daily problems with anti-social behaviour in the flats.
Last year volunteers at Armley Junktion Cafe were threatened for welcoming refugees and a mural defaced.
I could go on, but you get the picture. Armley has its problems (just as other inner city areas up and down the country do).
It's very easy to be swallowed up by the headine-grabbing negatives surrounding Armley at present.
It's not the job of The Dispatch to gloss over these issues or provide 'public relations' to 'big up' Armley, but in light of the public meeting/listening event to bring the community together, it's worth providing some balance to show some of the positive stuff that's going on around the area.
We've done this before, but now's an opportune moment to highlight some of the 'good stuff' happening every day by Armley residents who care about their community and want to see it improve …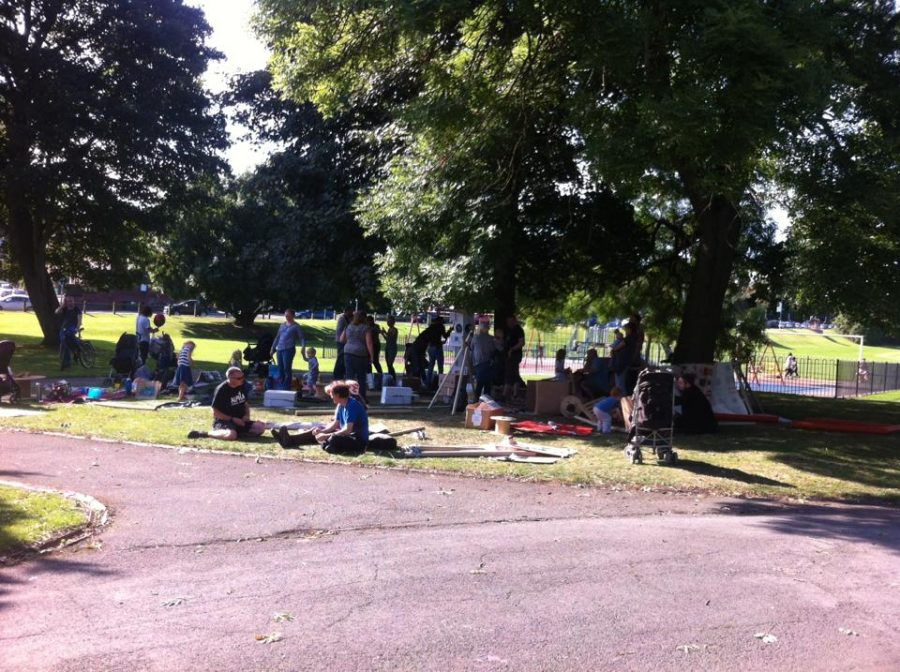 Friends of Armley Park
The new Friends of Armley Park group is made up of residents who want to improve their park. They're holding their first public meeting at the golf club at 8pm this Thursday – all are welcome to attend, have a say on the future of the park and perhaps join the committee.
Armley Good Stuff
Here's a group made up of Armley residents who discuss developments in the area on their active Facebook group of more than 1,000 members. They've held meetings highlighting some of the local groups doing 'good stuff' in the area.
Activities, such as a local singing group, have come about thanks to ideas coming out of Armley Good Stuff.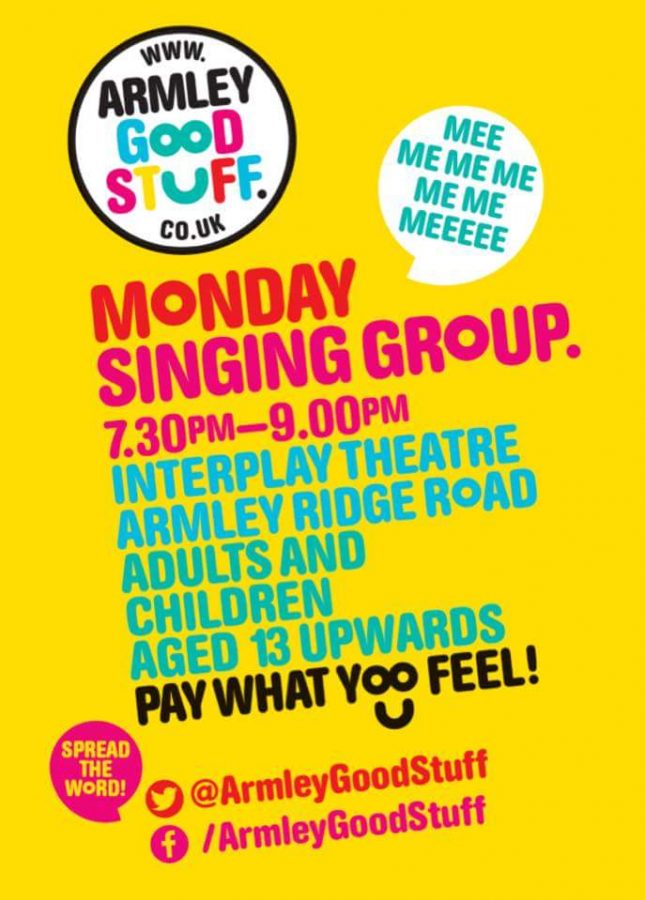 Interplay Theatre
Interplay Theatre does fantastic work with young people in the area.
They've currently got plans to build an LS12 theatre company – first meeting tomorrow! See the poster below: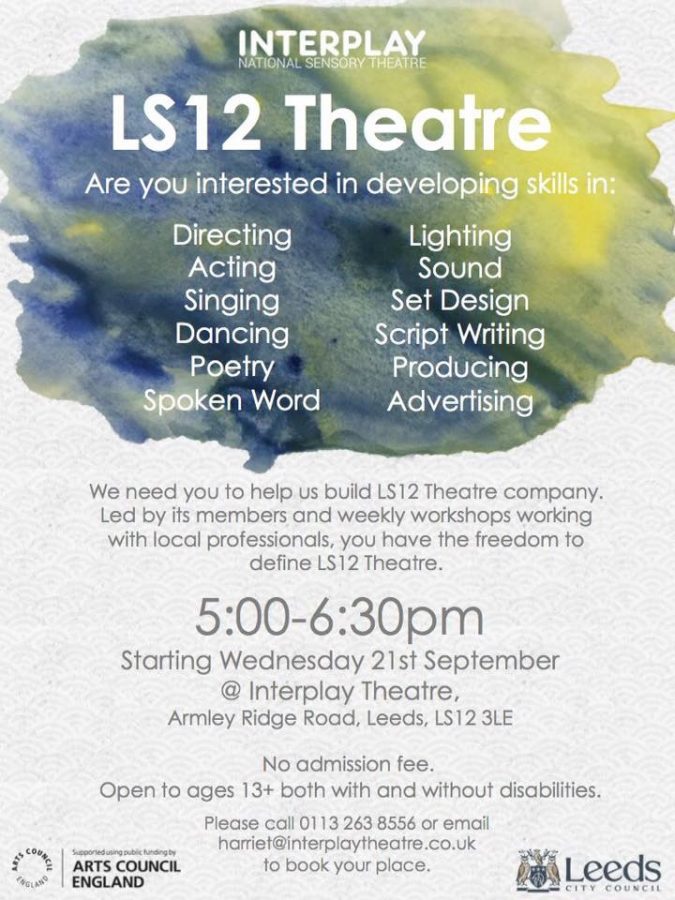 More details of other events on Interplay's Facebook page.
Armley Common Right Trust
Volunteers at the Armley Common Right Trust have been doing amazing work in maintaining and improving Armley's 'common land' like Armley Moor and Charlie Cake Park, holding regular tidy ups and events like Easter Egg hunts and hanging basket planting sessions.
Armley's common land protected by the Trust includes Hill Top, Charlie Cake Park, Moor Top (at the junction of Town St and Wortley Road), Armley Moor, Far Fold (over Theaker Lane from the Moor) and Ley Lane (beyond Mistress Lane).
Playbox
Playbox was run from an old shipping container by local residents in Charlie Cake Park (and other parts of Leeds) during the summer and provided much-needed opportunities for local youngsters to play.
All Together Armley
The high-profile All Together Armley group, made up of local residents and agencies like the council and police to name but a few, has outlined a number of ways Armley can improve.
They've already organised Armley Festival, which drew thousands onto Town Street and the Moor in early August. A business forum to improve Town Street has been set up and there's talk of an Armley in Bloom group being set up.
A public meeting will be held at 6pm at Armley One Stop Centre on 28th October to introduce the group's plan to improve the Town Street area to residents.
Armley Junktion
The high profile work of Armley Junktion – the home of the Real Junk Food Project – has been well documented.
The pay as you feel enterprise is now recycling good food destined for the bin at similar cafes across the country – and in Europe and Australia. How's that for putting Armley on the map? Armley Junktion itself has benefited from a recent refurbishment.
Armley Forum and Burnsalls Residents' Group
There are other groups doing good work. The council-run Armley Forum, for instance, runs tonight at Armley Library (7pm) and will discuss transport issues.
And a new residents' group for the Burnsalls meets tomorrow morning for the first time.
Things are happening in Armley. We can't ignore the bad stuff (as some have suggested we do here at The Dispatch) but we always try to highlight the positive stuff as well.
Perhaps you could become involved with one or more of these groups and make a difference? An extra pair of hands to help improve your community could make a big difference to these groups if they're truly to thrive and make a difference.
A community is like a patchwork quilt, with different colours, shapes and sizes all fitting together in one space. The important thing is to realise that you're part of that quilt and can influence how it looks.
There's a famous quote:
"The only thing necessary for the triumph of evil is that good men do nothing."
Which way next for Armley? You decide by getting involved. What will YOU do?