The other year I was out and about looking to see what I could find when I thought to myself, I wouldn't mind seeing the new Dunkirk film that was coming out, writes Mark Stevenson.
A few minutes later I noticed a boat along the canal that was actually in the Battle of Dunkirk. Coincidence?
The same thing happened to me just before Christmas. I saw an advert for the BBC version of Watership Down and a few minutes later I noticed a blue plaque I had not seen before.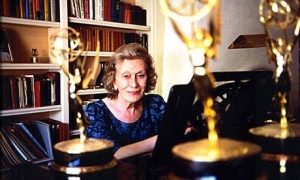 It is above a shop on Kirkstall Road – across from where the Vue Cinema now stands and where a pet shop used to be – and it marks the birthplace of Angela Morley, who was an Emmy award-winning composer and conductor for radio, TV and film.
Coincidentally she wrote the musical score for the 1978 version of Watership Down.
She also had a good working relationship with legendary composer John Williams, working with him on such blockbusters as Star Wars, The Empire Strikes Back, ET, Home Alone and Schindler's List.
During the 1980s, she scored many episodes of television shows such as Dynasty, Dallas, Falcon Crest and Hotel.
She also worked on Hancock's Half Hour and The Goon Show, and with Frankie Vaughan, Harry Secombe and Shirley Bassey.
In 1962 and 1963 she arranged Britain's entries for the Eurovision Song Contest.
Read more Mark's History columns here.
Editor's note: This article has been edited to remove some references of prior to Angela's sex change.