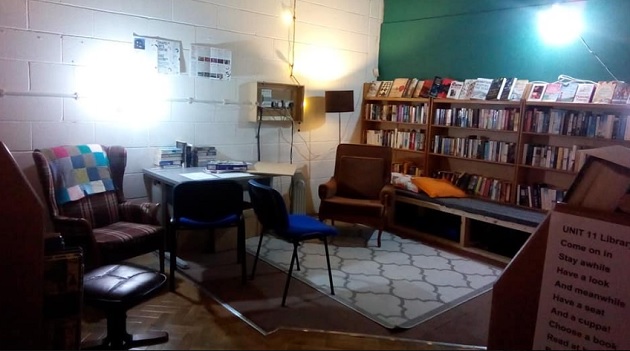 A new community-led library is bringing people together and encouraging people to read in Kirkstall – eight years after Kirkstall Library closed due to budget cuts. Community reporter Ramona Green paid the library a visit …
There is now a library at unit 11, Kirkstall Bridge Shopping Park that has a great range of books to suit every kind of reader. 
Their stock continues to rise with regular donations of books being brought into unit 11.  
As well as a library, the unit boasts quite a few activities including palates, hedgehog house building workshops – and recently hosted a West Leeds Dispatch community reporters course.
Unit 11 is run by community organisation Kirkstall Valley Development Trust (KVDT) who are using this site as a temporary community base while they continue to work towards establishing a more permanent home at Abbey Mills.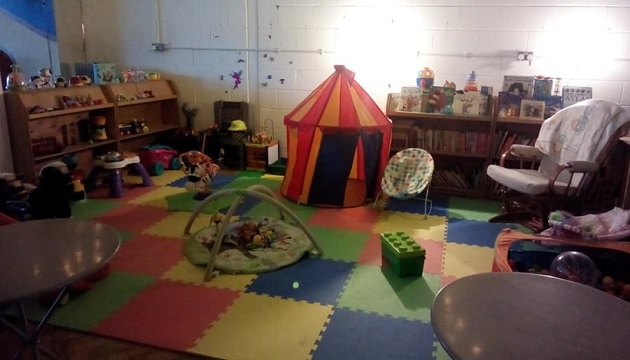 I spoke to Cathy, who visiting with her grandchildren, aged two, five and eight.  They all really enjoyed it, the two younger children playing in the children's play area while the eldest child scanned the vast array of books for something to take home and read. 
I had a cup of tea with their grandmother and asked her what she thought of the library here in unit 11. Cathy said:
"This is a great idea, especially since most of the big libraries are being closed down. 

"There is less and less effort put into getting our younger generation to read nowadays, especially actual paper books rather than e-books,  so to have something like this in our community, it's just fabulous.

"More areas in Leeds should do something community based like this, including the library.  My grandchildren take after me and all love books and reading, which I'm so grateful for."
I also spoke to Stella, who helped start this lovely, community based library. 
Stella works at The British Library based in Wetherby and wanted to help put a library together nearer to her home in Kirkstall. 
Adele Rae, from KVDT, approached Stella about getting something started there at unit 11 and that's how it all began.
Stella put a shout out at work at The British Library asking colleagues for books to donate. Like a book appeal of sorts. Around 90% of the books there now were sourced that way, the rest from other donors.
Stella said:
"Just take a book away, enjoy it, bring it back or give it to someone else. We are very informal and there are no fines given here."
There is also a fun-filled children"s area next to the library so avid readers who are also parents of young children can let their kids play and even read, as they also have a fantastic selection of children's books too.  
I strongly advise going along and taking a look for yourself and even borrowing a book or two.  You don't need a library card to borrow books from here. You could take half an hour to relax with a coffee as there is also a community kitchen in which you can make tea, coffee and cold drinks.  
If you have any books that you've read or someone gave you that you aren't really into, just take them along to unit 11 as their library will happily accept them and then someone else can enjoy them too. 
At the moment it is mainly weekdays – but not every day – that unit 11 is open as it is still quite a new project. 
Before Christmas they are looking to be open a full five days a week.
Contact Adele Rae for any further information,  including opening times, what's on and when & renting the space via her e-mail – adele.rae@kvdt.org.uk  or by phone on 07900 986570.