Time flies when you're having fun! It certainly doesn't seem five years since the first post went live on the West Leeds Dispatch, writes editor John Baron.
In fact, when we first started, we weren't even the Dispatch, we were called West Leeds Life for the first three months, before a public meeting at Bramley Lawn saw our readers vote for a name change.
It's hard to believe today marks five years since our first article – a preview of the 2015 General Election in Leeds West – went live. And an independent community-led local media operation was born!
"A labour of love for all of us involved"
The idea came from an initial discussion at a March 2015 community journalism 'unconference' in the British Library in London when former Guardian journalist and Farnley resident John Baron bumped into Emma Bearman, who lived in Armley at the time.
Out of their chat came the idea that the people of West Leeds needed more of an independent voice, greater knowledge of what was happening in their communities and a way to hold the local authority to account.
We have since become a trusted source of reliable news and information, covering local news, council and public meetings – the ones the mainstream media often ignores but that directly affect our community.
We've amassed more than 5 million page views, consistently delivering coverage of local campaigns and issues (including Kirkstall flood defences, the future of Wortley's TV Harrison sports ground, the Barley Mow community takeover in Bramley, Pudsey's Greenside Greenway, Armley Town Street etc etc).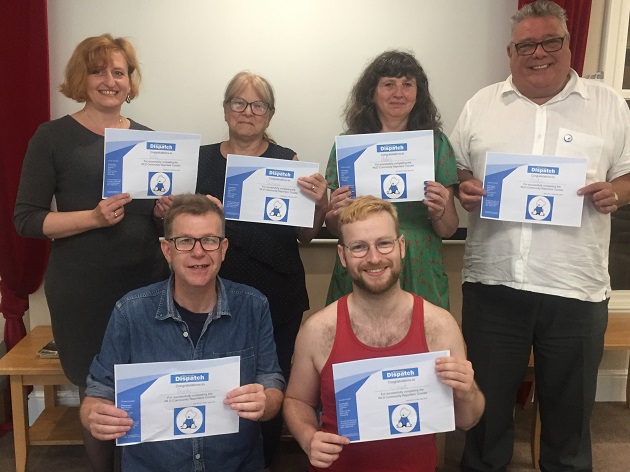 We've now got more than 40 community reporters – local residents with a passion for their community who have produced more than 400 articles between them in the past 12 months alone. Many of them attended one of the five training courses we received Big Lottery money to fund.
We also run regular community news cafes where you can meet our editor over a cuppa, and hold Dispatch community quiz nights at the Abbey Inn.
Our eight-strong volunteer-led board was formed in 2017 and runs our parent social enterprise – West Leeds Community Media. We're also a founder member of the national Independent Community News Network and a member of independent press regulator Impress.
And as the site nears publication of its 5,000th article, it's clear working on the Dispatch in what we laughingly call our spare time has definitely been a labour of love for all of us.
We wouldn't be where we are without the support of those people who have contributed over the years.
Not only are we written by local people, we are supported financially by them as well, with dozens of supporters contributing to our running costs each month here.
I'd like to thank everyone who has supported or contributed in any way, shape or form. We wouldn't be here now without you.
Recent events have made us think about the role of our website in the community.
The coronavirus outbreak has seen some mainstream publishers cease publishing at a time when increasing numbers of local people are looking for a reliable source of news and information –but we're proud that we've actually increased our efforts during this time.
Our future
The future is bright for West Leeds Dispatch, but the time has come to try and help the website to grow further, and also reach people who may not be online. We need to become sustainable as it's evolved beyond the hobby it started as.
We remain committed to producing a print edition – our last attempt was scuppered in late March days before going to print due to the Coronavirus outbreak. You can still read it online here.
In these difficult times for media, we'd love it if you could contribute articles about your community. Our board is also in need of strengthening with some business acumen and we could do with some design support on our website. We're also in need of someone who can help us sell some adverts.
If you are interested in getting involved with us, please contact me on news@westleedsdispatch.com.
We'd love it if you can support us by becoming a paying supporter to help sustain us – from just £4 a month. Details below
We are independent community media, made by local people. Join us and help ensure West Leeds continues to have a voice.