A Farsley councillor is calling Yorkshire Building Society to reconsider plans close its branch in Town Stret.
Councillor Rod Wood (Cons, Farsley and Calverley) is concerned that the closure will leave Farsley without a bank on its high street – and could leave local residents without face to face access to banking facilities.
YBS announced the proposed closure last week, saying there was less demand for bank branches as customers move to online platforms.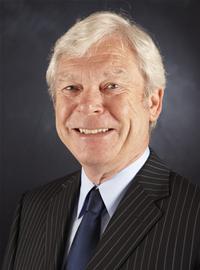 Cllr Wood said:
"Residents will remember that Farsley's Natwest branch closed recently and the justification for that was that there were other bank or building society branches still open in Farsley. In this case the YBS branch is the last bank or building society in our town and frankly I think local residents should have access to a high street bank.

"Not all of us are experts on the internet and I am concerned that older and more vulnerable residents could be left behind by these changes.

"My ward colleagues and I will be looking to meet with YBS representatives to make sure they are making the right decision and hopefully to change their mind and retain banking in Farsley."
A number of YBS users commented on the Dispatch's article announcing the planned closure.
Helen Wood said:
"Really! This is ridiculous! Don't find this to be a good idea at all, how is this supposed to help customers when they haven't got a branch to go to. We have no bank, now looks like no building society! Big mistake!"
Sally Brown said:
"We're supposed to be an up-and-coming village and yet we now no longer have banking facilities. It's a joke!"
But Paul Wheatley took a different view. He posted on the Dispatch Facebook page:
"One in Pudsey. On [number] 16 bus route. Easy to understand its closure."
Yorkshire Building Society are planning to close 20 branches nationally. YBS say the proposed branch closures are due to shifts in market conditions and an increasing desire among customers to transact digitally rather than on the high street.
UPDATED WEDNESDAY, FEBRUARY 1: Councillors Andrew Carter, Rod Wood and Amanda Carter have written to the Chief Executive of Yorkshire Building Society objecting to the proposal to close the Yorkshire Building Society, Farsley Branch and asked him for a rethink. The councillors have been invited to meet with senior managers at YBS.
Councillor Andrew Carter said:
"We are all working hard to keep Farsley Town Street a thriving centre for shopping, business and employment. If the Yorkshire Building Society branch was to close it would be very unwelcome indeed."
Councillor Rod Wood added:
"A lot of local resident use the Building Society as do many local volunteer groups. A closure would be a bitter blow and we need to try and stop it happening if we can."