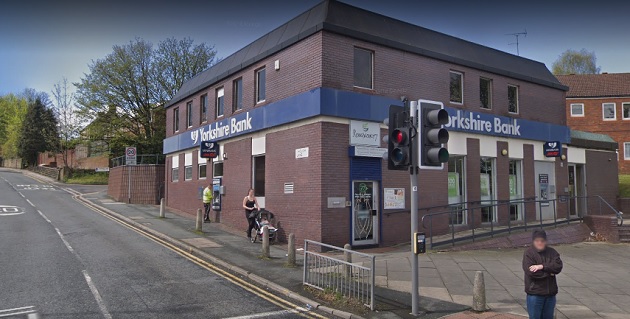 Angry customers, councillors and the MP for Leeds West are calling on Yorkshire Bank to reconsider its proposals to close Bramley's Yorkshire Bank.
The bank announced on Wednesday that its Bramley branch would be one of six closures across the north of England, starting in August.
They say people's move to internet banking is one of the primary reasons for the closure.
But the decision has been received and angry reaction locally, with customers criticising the bank for not supporting more vulnerable customers.
Annmarie Mcguigan said:
"What is to happen to the people who can't use internet banking and the elderly who don't drive either?

"In this day and age it's getting more difficult for people to talk to your bank staff instead of machines. When it's press button one or button two … and you still get the wrong person to speak to.

"There's nothing like going to the bank and being face to face to get what you want."
Neil Fox added:
"Where will the old people have to go for their money?"
Former Leeds West MP John Battle is one of the people behind the Bramley and West Leeds Credit Union. He said the loss of a bank would hit vulnerable people in an area where loan sharks operate and debt is a problem. He said:
"Now's the time for the "Bramley and West Leeds People's Bank" developing out of Bramley Credit Union, which is now based in the housing office on the corner of Town Street and Waterloo Lane.

"It's been an idea for some time now, and the loss of Yorkshire Bank could well be the catalyst to make this happen and operate a different type of bank which puts people before profit. We are working on it!"
Leeds West MP Rachel Reeves has criticised Yorkshire Bank's decision to close Bramley branch as a "huge blow" for the community. Ms Reeves said:
"I'm very disappointed that Yorkshire Bank have confirmed the closure of their Bramley branch and five other branches. This is a huge blow for our community in Bramley, and it is time we had a People's Bank that puts people before profits."
The proposed People's Bank would support communities neglected by the financial system.
In a joint statement, Bramley councillors Caroline Gruen, Jools Heselwood and Kevin Ritchie (all Lab) said:
"We are saddened to read about the closure of the Bramley branch of Yorkshire Bank, whose association with Bramley goes back a long way. It's particularly disappointing for the staff who have been a credit to the community through various initiatives.

"Local branches are hugely significant to communities and we feel that customers, the local community and stakeholders should have been consulted with prior to the decision being made.

"Bramley residents have been long-standing customers of Yorkshire Bank. Some of those customers are elderly or may have mobility problems and the bank needs to advise how customers will be able to continue to access their banking if this closure goes ahead. Not everybody can access on line banking or get buses to the next nearest branch.

"We'd like the bank to reconsider the decision, failing that, they need to get in touch to discuss their plans for the future of the building, which sits on key site in Bramley, as well as detailing what support is being provided for the hardworking, loyal staff."
Yorkshire Bank says its branches will begin to close in August. It has pledged to find jobs within its business for as many staff as possible, but admitted a small number of colleagues will be at risk of redundancy.
Fergus Murphy, Group Retail Director at CYBG banking group, said:
"We are committed to maintaining a national network of branches. Announcing plans to close branches is never easy and it's not a decision we take lightly. A number of factors are taken into consideration when reviewing our network, including branch usage, footfall and customer behaviour. Each branch is also assessed on an individual basis, carefully considering the impact on the local area, as well as alternative options."
___________
While you're here…
Producing your daily dose of West Leeds Dispatch comes at a cost!
There's the hosting of the website you're reading now, running our popular e-mail newsletter, membership of independent press regulator Impress, attending summer events, paying for equipment etc etc.
We need at least £200 a month just to break even – that's money currently coming out of the pockets of dedicated volunteers who are passionate about what's happening in our communities, connecting you with local groups and organisations as well as holding decision-makers to account and championing local issues.
And all that's BEFORE we even think about paying something for people's time – for instance, our editor puts in more than 24 hours a week in his 'spare' time to ensure The Dispatch publishes daily.
To put it bluntly, after nearly four years of daily publishing, we are not sustainable!
And we need YOUR help to continue …
For the cost of less than a couple of cups of coffee you can help support local community news and continue to give our communities a voice by taking out a subscription for just £4 per month (that's just a pound a week).
As a thanks you'll get your name on a roll of honour on our website. More importantly you will be enabling us to keep bringing you the news that matters about your neighbourhood.
Achieving a bedrock of supporters will give us a firm financial footing and help us plan for the future.
Supporting us couldn't be easier…
Just follow this link.
or set up a standing order with your bank:
Contact us on Paywestleedsdispatch@gmail.com if you'd like to do this.
Over to you …