By John Baron
A Farsley business owner fears her independent bookshop could be crippled in future years due to an increase in business rates.
Amanda Truman set up Truman Books in Farsley Town Street two years ago after moving from London when she changed from her career in travel due to the Covid-19 pandemic.
The shop's value initially fell under the £12,000 business rate cap meaning Amanda paid nothing – but the latest valuation took it over the basic rates, so she now faces paying over £6,000 a year, something she says will be a struggle.
Amanda is now calling for the 'outdated' current system to be scrapped and replaced with a fairer, more modern form of business rates where the threshold is raised in line with valuation rates.
She was speaking during a walkabout in Farsley by Leeds West MP and Shadow Chancellor Rachel Reeves and the British Retail Consortium's CEO Helen Dickinson on Friday, where the pair visited small businesses Truman's Books, Arlington Interiors and Mill Creations in Sunny Bank Mills.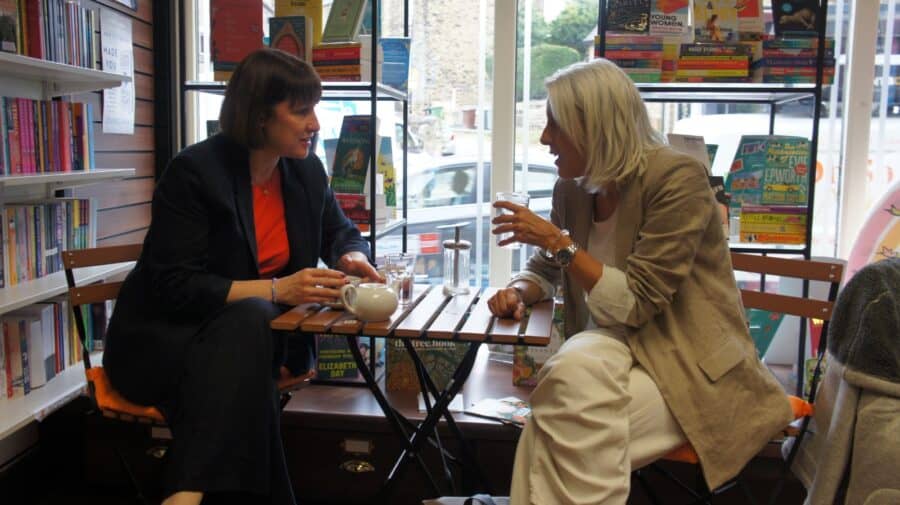 Amanda said Truman Books will benefit from both transition relief, which means the full amount won't be payable for three years, and a £1,000 business relief grant, but is worried what the future will hold while facing a £6,000 annual bill.
Amanda, who is appealing against the decision, said: "I am not sure the business will sustain that. I will have some hard questions to consider in three years' time unless something changes.
"We are doing well but we currently don't make enough to accommodate that amount of money. The change in our rates came out of nowhere. The whole business rates system needs to be changed to better support small independents."
Her concerns were backed by Ms Reeves, who argued the burden of taxation should be shifted away from the high streets and more onto the shoulders of online giants.
Mr Reeves added there is a business rates retail discount but it runs out next March – and warned some small retailers would then see their business rates bill shoot up.
She said smaller retailers see a £550 – or 5% – increase in business rates bill in Yorkshire and Humber, but the government argued 64% of properties in Yorkshire and Humber are seeing their bills decrease, or stay the same.
Speaking at the visit, Ms Reeves said: "I know the vital contribution that businesses in West Leeds and across our city make to the economy and to our communities. I want to supercharge that, and make Britain the best place to start and grow a business.
"Seeing the hard work being done at businesses like Trumans Books, Arlington Interiors and Mill Creations is a perfect illustration of the talent and hard work that we need to spur our economy into better days."
British Retail Consortium CEO Helen Dickinson added: "Successful high streets offer a wider mix of experience beyond retail, with people looking for more reasons to visit like leisure, the arts, and co-working spaces.
"It was great to see this brought to life on Farsley Town Street and in Sunny Bank Mills.
"We need to see more places like this which requires strong local leadership, proactive councils and effective policies at the national level, so it was great to be able to discuss retail's priorities with Rachel Reeves today."
A HM Treasury spokesperson refuted the criticisms and said 64% of properties in Yorkshire and Humber are seeing their bills decrease, or stay the same.
The spokesperson said: "Properties in Yorkshire and Humber will on average see a 4.3% drop in their bills, partly thanks to our £13.6 billion Autumn Statement business rates support package, which provides 75% relief for retail, hospitality and leisure, caps rising bills and protects all from rising inflation.
"Our business rates review committed to more frequent revaluations to better reflect the commercial property market, helping to level the playing field between bricks and mortar and in-store retail."
The spokesperson said for businesses that have lost eligibility for Small Business Rate Relief due to the revaluation the Supporting Small Business scheme (SSB) caps bill increases at £600 per year.
SSB will support 80,000 small businesses who face bill increases due to loss of partial or full eligibility as a result of the revaluation. Together with the expanded 75% Retail, Hospitality and Leisure relief, no eligible small retail business will therefore have seen an increase in bills greater than £12.50 per month in 2023 (£150 per year).
The spokesperson said business in Yorkshire and Humber will benefit from support worth £380m in 2023-24.
Sponsored content