By David Spereall, local democracy reporting service
Work on West Yorkshire's mass transit system, which it's claimed will "hurtle" the region "into the 21st century", could start by the end of the decade.
Regional leaders committed on Friday to an ambition to have "spades in the ground" on the £2bn scheme by end of West Yorkshire's second mayoral term, which would be 2028.
It's also been suggested that driverless vehicles could be incorporated into the project, which is due to be completed by 2040.
Although routes have not been finalised, it would likely include a mass transit interchange in Bradford city centre – with a line linking the city to Leeds, via Pudsey, Bramley and Armley/Wortley.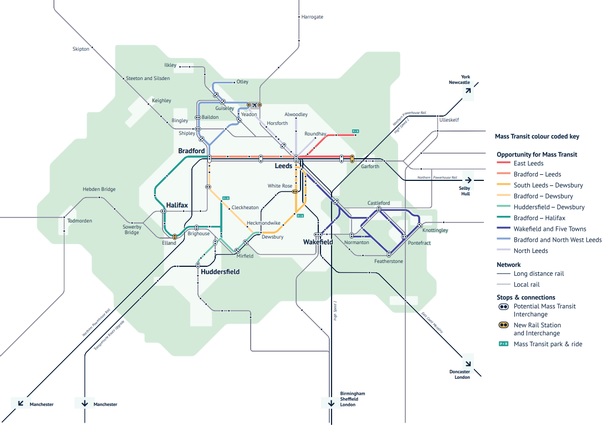 Plans to build a transit system to better connect towns and cities across West Yorkshire have been in the pipeline since 2018 and the scheme has cross-party support. Details of the mass transit system were announced last year.
It's not known exactly what type of transport will run across the route yet, with the likes of tram trains and electric buses both under consideration.
But at a West Yorkshire Combined Authority (WCYA) meeting on Friday, senior officers in charge of the project suggested more than one type of vehicle may be able to use the system.
They also hinted that the advent of the automatically-driven car could form part of the plans too.
Asked when the scheme's exact format will be revealed, Kevin Murray, WYCA's interim director of mass transit, said: "Those choices are still to be made.
"They will come through our development process and that's likely to be over the next 18 months or so.
"But I think the ambition is to look at the future, to look at modern systems. It's a case of what suits which route."
WYCA's managing director Ben Still said that the fast development of new technology was "both really exciting and creates challenges, in terms of the design."
He told councillors: "Planning a mass transit system is more complicated in a world where the boundaries between private and public vehicles becomes more fluid, in a world of autonomous vehicles.
"It's a conversation that's been live for some time.
"I think it raises more questions about what's the right technology for this. It might be that there isn't one technology across West Yorkshire. It might be that different technologies can use the same route for different purposes."
Mayor Tracy Brabin said the scheme's development is "not an easy process" and urged local councillors across the political spectrum to maintain their support for it.
She said: "This is going to go across several Parliaments. It will cost £2bn and there will be further demands for money and we need that collective will that we're all wanting to deliver this project.
"It's really going to hurtle us into the 21st century, increase productivity and inward investment and it's hugely exciting."
Sponsored content